APT stands for "AstroPhotography Tool" and it is like Swiss army knife for your astro imaging sessions. No matter what you are imaging with – Canon EOS, Nikon, CCD or CMOS astro camera – APT has the right tool for planning, collimating, aligning, focusing, framing, controlling/tethering, imaging, synchronizing, scheduling, meridian flipping, analyzing and monitoring.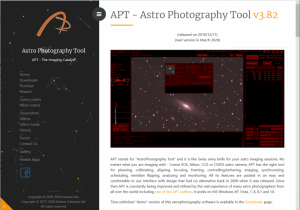 All its features are packed in an easy and comfortable to use interface with design that had no alternative back in 2009 when it was released. Since then APT is constantly being improved and refined by the real experience of many astro photographers from all over the world. It works on MS Windows XP, Vista, 7, 8, 8.1 and 10.
The publishers behind the software has created a new website dedicated to the software located here. The new site also has added a host of features to help new users quickly learn how to utilize the program and the seasoned user will also find the site is valuable in getting the most out the program.
APT also has a dedicated standalone forum website which offers a place where you can ask or search specific questions. Also it is a growing source of information related to astro-photography in all of its aspects – imaging, automation, processing and etc. It is the preferred way to discuss everything around APT because your questions, answers, suggestions or ideas can be a great help to others.
A key for the full version of APT is available for purchase for the cost of $18.70EUR (approximately $21US). A Time unlimited "demo" version of the software is available in the Downloads page. This version has almost all features of the full one and there are no time restrictions. In fact this "demo" is one of the most loaded astrophotography software packages available for free. You can use it to test if APT works fine with all of your devices.
The publishers of APT recently announced the availability of APT 3.40 offering new support for Nikon cameras, as well as providing a host of new features for Canon EOS, CCDs, plus general fixes to the program.