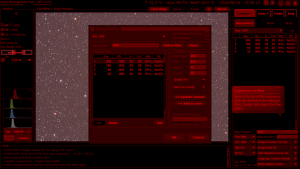 The publishers of the Astro Photography Tool recently announced the availability of APT 3.40 offering new support for Nikon cameras, as well as providing a host of new features for Canon EOS, CCDs, plus general fixes to the program.
In addition to improving the program itself, the publishers have also added improvements to the APT website. For example, all Object Browser extensions are now reworked as installations for easier application, and the DSLR matrixes now offer suggested "best ISO" for various astro-photography conditions.
You can think of the APT software tool as an Swiss army knife for astro imaging sessions. No matter what camera you use – Canon EOS, Nikon or CCD – APT has the right tool for planning, collimating, aligning, focusing, framing, controlling, imaging, synchronizing, analyzing and monitoring.
All of program's features are packed in an easy and comfortable to use interface with constant improvements in its design since 2009 when it was released. Since then APT is constantly being improved and refined by the real experience of many astro photographers from all over the world and by author's own experience.
This is the biggest update of APT's history. A complete list of the changes is available here.