Stuck at home looking for something to do? Want to learn about the latest in astronomy equipment, techniques and more? Well, Sky-Watcher USA's "What's Up?" Webcast is a new option to learn more about what is happening in the world of telescope technology.
What's Up? is a live webcast held every Friday from 10am to 11am Pacific on the Sky-Watcher USA YouTube channel. Each week they take a dive into a new astronomical topic including gear, visual & imaging techniques, interviews and more. You can participate by asking questions, suggesting topics during the show and more.
This week in What's Up? the SkyWatcher USA team is hosting special guest Richard Wright from Software Bisque. The webcast is going to cover how to choose the right camera for astrophotography and a lot of odds and ends about the world of astrophotography in general.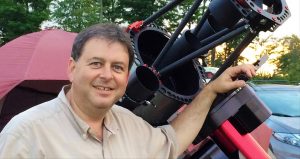 Richard is the Imaging Evangelist and a Senior Software Engineer for Software Bisque where for over a decade his focus has been on graphics and cross platform technologies. He is currently responsible for Software Bisque's mobile products and cross platform imaging solutions.
A frequent contributor to Astronomy Technology Today, Sky & Telescope and astrophotography webinars, Richard Wright also authors a monthly Sky & Telescope Blog "Imaging Foundations" and has written the book, "The Evening Show, Revealing the Universe Though Astrophotography".
All What's Up? webcasts are free by tuning to Sky-Watcher USA's YouTube channel. Can't watch it live? That's OK, all webcasts can be watched whenever you like by visiting the YouTube channel. This includes last week's webcast which focused on imaging filters. Imaging is the fastest growing branch of astronomy and one of the biggest accessories for your imaging train is filters. The webcast took a close look at what filters work best for you and what they can bring to your imaging system.