Interested in imaging filters? Stuck at home looking for something to do? Want to learn about the latest in astronomy equipment, techniques and more? Well Sky-Watcher's new "What's Up?" Webcast is a new option to learn more about what's happening in the world of telescope technology.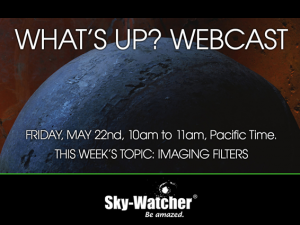 What's Up? is a live webcast held every Friday from 10am to 11am Pacific on the Sky-Watcher USA YouTube channel. Each week they take a dive into a new astronomical topic: gear, visual & imaging techniques, interviews and more.
This week in What's Up? they are taking a look at imaging filters Imaging is the fastest growing branch of astronomy and one of the biggest accessories for your imaging train is imaging filters. in this webcast Skywatcher takes a close look at what imaging filters work best for you and what they can bring to your imaging system.
All What's Up? webcasts are free by tuning to Sky-Watcher USA's YouTube channel. Can't watch it live? That's OK, all webcasts can be watched whenever you like by visiting the YouTube channel. This includes a previous webcast which focused on eyepieces.