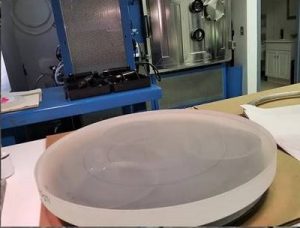 Ostahowski Optics has announced they are currently in the process of planning their 24-inch primary mirror production for next year. They are taking pre-orders for the mirrors and will be ordering the fused quartz substrate soon in order to have blanks ready to process by the first of next year.
The company is offering these 24-inch optics with a 2-inch edge thickness and the mirrors will be available in the following focal ratios: f/3.1, f/3.3, f/3.6 and f/4.0.
Prices will vary depending on the focal ratio chosen and every primary will be supplied with a fused quartz elliptical diagonal mirror. You can learn more or place an order here.