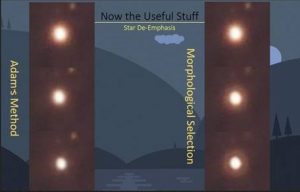 Adam Block hosts the Adam Block Studios website where he provides instruction on creating beautiful astro images of the Universe through technical proficiency and thoughtful artistry. On the site he provides astro imaging instructional videos and other materials on subjects including PixInsight, Photoshop, and CCDStack.
He recently has recently added new content to the site adding more astro imaging lessons. This includes a new method of implementing star de-emphasis that does not rely on an erosion technique. This method does not use an erosion filter and so avoids the pitfalls/artifacts of the method.
The image shown here offers a comparison of stars using his method and the more common method of Morphological Selection.
Below is a video overview of the process. To learn more about the technique, visit Adam's website.