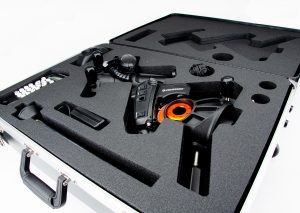 For over 35 years, Jim Burr and JMI Telescopes created novel products for the telescope industry. Innovations included Wheely Bars, the Motofocus, and others which became household words to the amateur astronomy community.
When Jim was ready to release the reigns of the business, Farpoint Astro stepped in and now carries over 180 JMI products, ensuring that JMI's legacy will continue far into the future.
One of the products JMI has been well known for are its line of hard-shell carrying cases. These cases are designed to perform for decades, safely cradling well loved telescopes and accessories. Farpoint continues to expand the JMI carrying case options and has introduced the JMI hard shell carrying case for Celestron AVX mount head and components.
The case is available in two options which include a Standard carrying model and a Deluxe model which includes wheels and extendable handle. These hard-shell carrying cases offer an exterior which is molded from nearly indestructible ABS polymer. The interior consists of custom fit, high density foam to keep the mount components well secured and protected.
The Standard model is priced at $421US and the Deluxe model is priced at $ $514US.