Jerry Lodriguss' book, A Beginner's Guide to Astronomical Image Processing, will teach you how to process your long-exposure deep-sky images to produce beautiful results. Taking the image is just the first half of the job. Processing the image is the other half.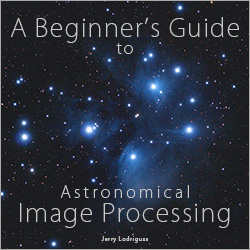 Jerry's latest book is written in HTML5 with Responsive Web Design (RWD), the format used for web pages, so it can be viewed natively on a variety of devices such as Windows and Mac desktop and laptop computers, iOS iPads and iPhones and Android tablets and smart phones.
The new book includes: Step-by-step simple, and detailed, processing instructions; 25 image processing video tutorials; a raw stacked linear file of M42 with which to practice image processing in Photoshop; a set of custom Photoshop actions for astronomical image processing; and a search function to find any term in the book.
A Beginner's Guide to Astronomical Image Processing will teach you to use DeepSkyStacker and Photoshop for:
Automatic calibration with dark, flat and bias frames if you have them.
Automatic alignment and registration.
Automatic stacking to combine multiple short images to equal the signal-to-noise ratio of a much longer image.
Remove light pollution to produce correct color.
Brighten the image to make faint details more visible.
Increase the contrast to make faint objects stand out from the background.
Adjust and enhance the color.
Correct for hot pixels, dust spots, minor trailing, vignetting and gradients.
You can find instructions on image processing on the Internet, but they are all over the place, and some of them are just plain wrong. How do you find them, and how do you tell the difference when you do find them? What makes this book valuable to you is that comprehensive instructions on image stacking and processing are collected in the book – all in one place! – and they are organized and edited into a coherent, easy-to-use format put together by an expert you can trust.
Jerry Lodriguss is a professional photographer and writer who has been an astrophotographer for more than 40 years. His articles have been published in numerous magazines, and his astronomical images have appeared in books and magazines throughout the world. Jerry has previously written six highly acclaimed books: Beginner's Guide to DSLR Astrophotography, Beginner's Guide to Astronomical Image Processing, Advanced Guide to DSLR Astrophotography, A Guide to DSLR Planetary Imaging, Astrophotographer's Guide to the Deep Sky and Photoshop for Astrophotographers.
His latest book, A Beginner's Guide to Astronomical Image Processing is priced at $39.95US. More information is available here.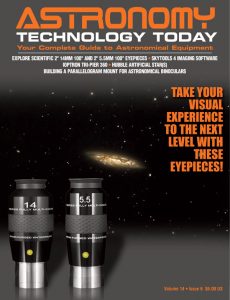 And to make it easier for you to get the most extensive telescope and amateur astronomy related news, articles and reviews that are only available in the magazine pages of Astronomy Technology Today, we are offering a 1 year subscription for only $6! Or, for an even better deal, we are offering 2 years for only $9. Click here to get these deals which only will be available for a very limited time. You can also check out a free sample issue here.