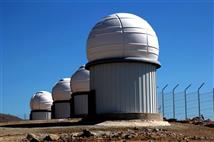 ChileScope is a new remote observatory offering located in the Chilean Andes mountains. The site location is 20km southeast of Cerro Pachon, Chile at 30º 27' South 70º 45' West at an altitude of 1560 meters. The average level of seeing is below 1 arc second and on good nights the average level of seeing is approximately 0.6-0.8 arc second.
The observatory offers three instruments for remote use include two 50cm F:3,8 corrected Newtonian telescopes on direct drive equatorial mounts each outfitted with FLI ProLine 16803 cameras with 10 filter capacity filter wheels. The observatory also offers a one-meter Ritchey–Chrétien telescope on a direct drive Alt-Az mount offering a FLI ProLine 16803 camera with a 10-filter capacity filter wheel and a ZWO ASI174MM camera with 8-filter capacity filter wheels
To use the site you log in to the website and create your own observing program and then create observing schedules. Once you choose the necessary astronomic data to utilize one of the three telescopes you then get to choose filters, exposures, camera and other options needed. Pricing and availability is available on their website at www.chilescope.com.