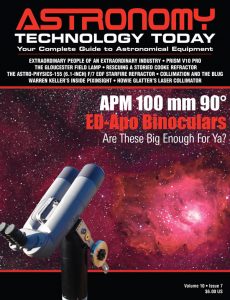 Are two eyes better than one? In the case of binoculars – with their ease of use and portability when observing the 2017 Great American Solar Eclipse – using both eyes is just the ticket. And if you already have a pair of binoculars sitting around the house, then with the proper filters you can view the solar eclipse.
If you don't currently own a pair of binoculars, now would be a great time to buy a high-quality set that can provide double duty – you can observe the eclipse as well as use the binoculars for ongoing solar observing. Also, there are a wide variety of binoculars available that add the functionality of providing excellent nighttime astronomical observing, offering added long-term value for your binocular purchase.
For steady viewing, a mount/tripod combination very useful for using binoculars when looking at the Sun. Options are varied – from simple mounting of the binocular on a tripod to full computer controlled mounts that will find and track any astronomical object you want to view.
Solar Filters for Binoculars
It is not safe to use binoculars to view the solar eclipse without the proper filters. There are a number of filter sizes available off the shelf for a wide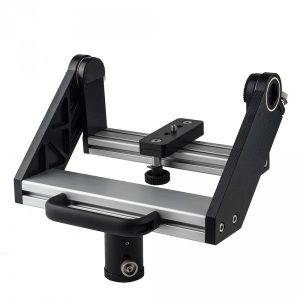 variety of binoculars that can be purchased from astronomy retailers (who also sell astronomy enhanced binoculars). You can find a link to a list of astronomy retailers below.
There are two basic types of solar filters: white-light and H-alpha filters. You'll need a white-light filter for your binoculars as H-alpha filters are not available for binocular solar viewing.
White-light filters allow the full spectrum of the Sun's light to pass through the telescope – however they remove 99.999 percent of the Sun's energy, for a safe viewing environment. These filters are mounted to the front of the binocular and are typically made of glass or film.
An option to buying a readymade white-light filter is to build your own. One good reason to do so is affordability. A single sheet of solar-safe film may be enough to build filters for more than one set of binoculars – even multiple telescopes. You can purchase solar-safe film specifically packaged for DIY solar filters and then make the filter cells from materials commonly available at your local hardware store. Astronomy Technology Today Executive Editor Gary Parkerson provides a step-by-step overview of how to build you own solar filter for under $50 here.
Where to Purchase
If you want to buy an astronomy enhanced binocular or filter/filter material, you should do so immediately. With less than three weeks until the August 21 Solar Eclipse, astronomer retailer's supplies are dwindling quickly. You can find a list of retailers here.
Other Resources
Below are resources to help you learn more about using binoculars for general astronomy and the 2017 Solar Eclipse.
Astronomy Technology Today Magazine
Solar Binoculars: Delivering a Hands on Solar Experience
The Great Solar Eclipse is bringing a host of new solar observing products to market. This includes binoculars designed specifically for solar observing. Astronomy Technology Today editor Gary Parkerson demonstrates how a pair of Lunt Solar's SUNoculars can be used to get you up close and personal with the solar eclipse. To read click here.
Binocular Sky Website
Using Binoculars for Astronomy
Steve Tonkin hosts the "Binocular Sky" website which provides one of the most comprehensive resources about using binoculars for astronomical purposes. The website includes advice on how to choose a binocular for your specific needs, what you can see with different types of binoculars and advice on using your binoculars to get the best results. To read click here.
Astronomy Technology Today
Supersized Binoculars: The Ferrari of the Binoculars
Regular Astronomy Technology Today contributor Mark Zaslove shows how supersized binoculars can provide stunning views as he dives into the functionality of APM's 100-mm 90° ED-Apo Binocular. These binoculars are the Ferrari's of the binocular world and are better described as bino-telescopes as they functionally have two high-end telescopes mated to together to create the ultimate astronomical binoculars. To read click here.
###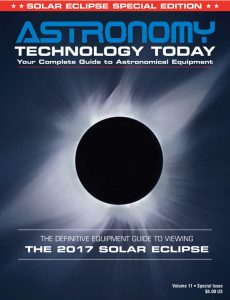 The Astronomy Technology Today editorial staff would like to take this opportunity to remind you of the availability of our Solar eclipse equipment guide  – The Definitive Equipment Guide to the 2017 Solar Eclipse.  Our goal with the 40 page publication is to provide an easy-to-consume introduction to the technological options for viewing and imaging the Great Solar Eclipse. We cover the gamut of options available including building your own solar viewer, solar glasses, smart phones, DSLR cameras, using astronomy telescopes, solar telescopes, using binoculars, solar filters (including a DYI filter option), CCD astro cameras, astro video cameras, webcams and much more. You can view the guide on our website here – its free and there is no requirement to sign up to read the guide.