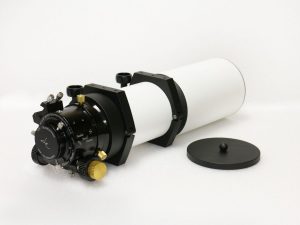 Whether you are a resolute visual observer or dedicated astro-imager, refractor telescopes offer unique advantages. But, the physics of light being what they are, no single refractor is best at both pursuits, and given the understandable recent market focus on refractors for astrophotography, those of us most interested in high-end apochromatic refractors for visual work often end up compromising.
CFF Telescopes is working to change that. Consider its smallest refractor, a traveler-friendly 105-mm apo, which is available in a fast, astrophotography-centric 630-mm (f/6) focal length, as well as in a planetary optimized 1050-mm (f/10) configuration. Oh, and there are two additional focal lengths in between: a 730-mm (f/7) and a 915-mm (f/8). Ditto its 140-mm apo, which is available in focal lengths of 915-mm (f/6.5), 1050-mm (f/7.5) and 1260-mm (f/9), its 160-mm, which is available in f/6.5 and f/8, and its 185-mm, available in f/6.8 and f/8.7). CFF doesn't begin restricting its refractors to a single focal length until we work up to its largest, a 200-mm, which is only available in an f/8 formulation – for now.
The philosophy continues in the company's classical Cassegrain telescope line, wherein its 250-, 300- and 350-mm apertures are available in f/15 and f/20 formulations. Oh, and the 350-mm version is also available as an f/17.
The more options, the less we must compromise, and CFF, which stands for "Coma-Free Field," offers lots of options! For more information, visit www.cfftelescopes.eu, or visit your nearest CFF dealer: cloudbreakoptics.com/ (U.S.), www.astronomyalive.com.au/ (Australia), www.skyvision.fr/ (France), www.kctw.net/ (China), www.teleskop-express.de/ (Germany), www.skypoint.it/ (Italy), and www.peak2valleyinstruments.co.uk/ (U.K.).
###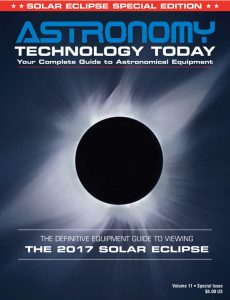 The Astronomy Technology Today editorial staff would like to take this opportunity to remind you of the availability of our Solar eclipse equipment guide  – The Definitive Equipment Guide to the 2017 Solar Eclipse.  Our goal with the 40 page publication is to provide an easy-to-consume introduction to the technological options for viewing and imaging the Great Solar Eclipse. We cover the gamut of options available including building you own solar viewer, solar glasses, smart phones, DSLR cameras, using astronomy telescopes, solar telescopes, using binoculars, solar filters (including a DYI filter option), CCD astro cameras, astro video cameras, webcams and much more. You can view the guide on our website here – its free and there is no requirement to sign up to read the guide.