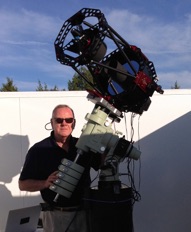 By John O'Neill
John O'Neill is a retired advertising and marketing consultant living in Seminole, Florida and is a member of the St. Petersburg Astronomy Club. Over seventeen years ago, he started into the world of astro imaging, using film, then upgraded to CCD cameras with color filters. Visit his website at http://www.oneilladvertising.com to view a number of his images.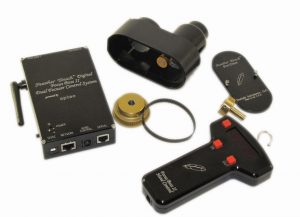 A company that rests on its laurel's will soon be put to rest.  This certainly does not apply to Starlight Instruments, manufactures of the now famous Feathertouch focuser. Starlight Instruments has always been a step ahead of the competition by manufacturing precision rack and pinion, non-slip focusers and accessories, for those who only the best will do.
The Starlight Instruments innovative Posi Drive Motor System, puts ultra-high resolution focusing within reach of discerning astro imagers everywhere. Their design incorporates a special high precision bi-polar motor and 6 to 1 reduction system that produces 24,000 step resolution for every 1 inch of travel. The Posi Drive Motor System works on all Feathertouch 2" and larger focusers and is very easy to install.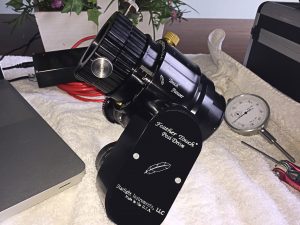 Initial testing on a star with the new focuser at the Winter Star Party  (known for very steady skies) was the perfect venue to test the system. The focuser can be controlled by a hand controller or in my case a software program that has all the functions necessary to control the focuser from your computer. A wireless system is also available.
After Jon Joseph installed the Posi Drive Motor System on the scope, hooked up the cables to the control box, focuser and computer, we were ready to go. We started up the computer and the Focuser Boss II software installed without a problem. Turning on the control box the Focuser Boss II program automatically connected and we were ready to go.
The first thing we did was test the focuser to make sure everything was connected properly. The ability to control the number of steps the focuser moves is one of its best features. As I mentioned earlier, the new system has 24,000 steps per 1 inch of travel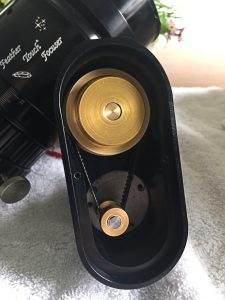 (2.54 cm) putting that another way .004 inch for every 100 steps. This resolution is only available on the most expensive systems on the market.
Putting in 500 steps you can notice the focuser move. Putting in 100 steps you can barely notice the focuser move. Change that to 50 steps and you can't.
Once the clouds moved out we began testing the system using Maxim DL. Finding a nice star, we used a 500 step resolution setting to roughly focus the camera. We then dropped down to 100 steps to get a finer focus. Tiny stars not visible at 500 steps, appeared on the screen and got brighter as we neared focus. We then dropped down to 25 steps to nudge the focuser.
As the focuser got closer and closer to perfect focus, the image just snapped into perfect focus to a degree not even remotely possible using my old system or trying to do it by hand. Going past by approximately 300 steps the tiny stars disappeared. In all
my years of imaging I have never experienced this kind of precision. Once a precise focus is achieved the software allows you to save that setting to bring you to focus the next time you use it. Focuser Boss II also has Temperature Compensation plus many other features that imagers will find very useful.
The Posi Drive Motor System is ridged and robust and can lift up to 56 pounds of imaging gear. A new drive disconnect system will allow for manual focus at the scope
###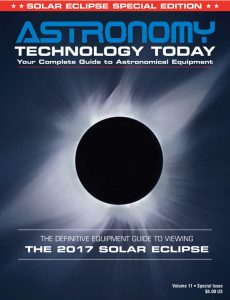 The Astronomy Technology Today editorial staff would like to take this opportunity to remind you of the availability of our Solar eclipse equipment guide – The Definitive Equipment Guide to the 2017 Solar Eclipse.  Our goal with the 40-page publication is to provide an easy-to-consume introduction to the technological options for viewing and imaging the Great Solar Eclipse. We cover the gamut of options available including building your own solar viewer, solar glasses, smart phones, DSLR cameras, using astronomy telescopes, solar telescopes, using binoculars, solar filters (including a DYI filter option), CCD astro cameras, astro video cameras, webcams and much more. You can view the guide on our website here – its free and there is no requirement to sign up to read the guide.