It's always fun to see the astro-tech so many of us deploy nightly used in larger contexts, but sometimes those larger contexts are so over-the-top, it takes our collective breaths away, as was the case when we were treated to first reports of the Dragon 44 discovery of the Dragonfly Array.
The Dragonfly Array? Its latest configuration is simply 48 off-the-shelf Canon 400-mm lenses backed by an equal number of SBIG's venerable STT-8300Ms, all carried on two Software Bisque's new Paramount Taurus telescope mounts. That's all.
The Canon lenses feature new nano-fabricated coatings with sub-wavelength structure on the optical glass, which has unprecedented performance in reducing stray light and reflections.
The purpose of the Dragonfly Array is to search out ultra-low contrast objects, which have been overlooked by more conventional instrumentation. Recently, the discovery of Dragonfly 44 was reported, a galaxy that is calculated to be 99.99-percent dark matter. This discovery opens an important new window on dark matter, and has significant implications for theorists seeking to understand Cold Dark Matter cosmology and how galaxies were assembled following the Big Bang.
The Dragonfly Array began imaging targets in 2013 from its home at the New Mexico Skies hosting facility with more modest 12-cameras-per-mount arrays. Images from its latest and grandest configurations have shown that Dragonfly is now at least ten times more efficient than its nearest rival and will be able to detect faint structures predicted by current merger models.
We are so fully immersed in all of this wonderful digital astro tech that it's easy to forget that we're living in the golden age of amateur astronomy … and that things are only getting better. We've enjoyed digital imaging and fully automated mounts for long enough that many of us have forgotten just how powerful all that remarkably affordable off-the-shelf hardware truly is. So yes, it's fun to see the occasional reminder like the apply named Dragonfly Array.
For more information, please visit http://www.bisque.com/sc/blogs/daniel_bisques_blog/archive/2016/08/29/dragonfly-44.aspx and https://diffractionlimited.com/dragon-44-discovery/ .
###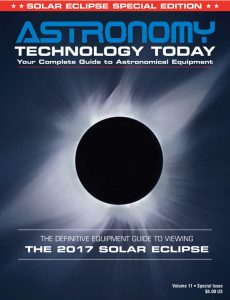 The Astronomy Technology Today editorial staff would like to take this opportunity to remind you of the availability of our Solar eclipse equipment guide – The Definitive Equipment Guide to the 2017 Solar Eclipse.  Our goal with the 40 page publication is to provide an easy-to-consume introduction to the technological options for viewing and imaging the Great Solar Eclipse. We cover the gamut of options available including building you own solar viewer, solar glasses, smart phones, DSLR cameras, using astronomy telescopes, solar telescopes, using binoculars, solar filters (including a DYI filter option), CCD astro cameras, astro video cameras, webcams and much more. You can view the guide on our website here – its free and there is no requirement to sign up to read the guide.