Mirro-Sphere of Mazy, France now offers a true Serrurier truss-tube Newtonian constructed of carbon fiber and high-grade aluminum. Lightweight and rigid carbon-fiber tubes connect the support rings in a Serrurier-truss design using ball screws and socket hardware. The initial version of the telescope is a 12-inch f/4. It is designed specifically for advanced amateur astronomers who require the best-available quality and technology.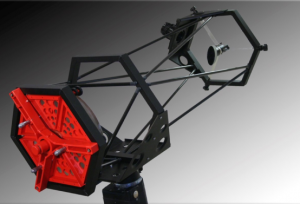 The design yields a structure that holds all optical elements in collimation, regardless of the telescope's orientation, including when passing through the meridian during imaging, but while remaining light enough at 18 kilograms (39.7 pounds) for use on most heavy-duty equatorial mounts. The design also delivers the convenience of easy disassembly for transport. Carbon-fiber tubes are used to obtain close to zero expansion of the optical travel – independent temperature focusing is achieved without the need of additional components.
All high-grade aluminum parts are powder coated (thermoplastic coating) or they receive a colored anodized surface finish. Easy and high precision collimation of primary is achieved with three micrometric heads and secondary mirror with a ball screw assembly.
A precision motorized focuser is available as an option. It has been designed with eight shafts and four guiding columns in a configuration that ensures virtually zero slop and backlash. Two motors are operated in full-step mode yielding 200 steps per revolution, providing an excellent 2.5 µm resolution coupled with 1.0-mm per revolution pitch of the threaded axles that slides the eyepiece or the camera. The motor is driven by a microcontroller coupled with a convenient hand-control device that connects to the telescope by cable. The control system is fully ASCOM compatible.
For more information, visit www.mirro-sphere.com.
###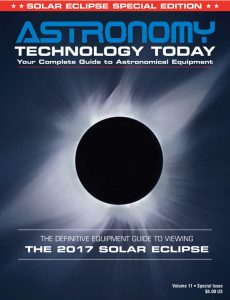 The Astronomy Technology Today editorial staff would like to take this opportunity to remind you of the availability of our Solar eclipse equipment guide – The Definitive Equipment Guide to the 2017 Solar Eclipse.  Our goal with the 40 page publication is to provide an easy-to-consume introduction to the technological options for viewing and imaging the Great Solar Eclipse. We cover the gamut of options available including building you own solar viewer, solar glasses, smart phones, DSLR cameras, using astronomy telescopes, solar telescopes, using binoculars, solar filters (including a DYI filter option), CCD astro cameras, astro video cameras, webcams and much more. You can view the guide on our website here – its free and there is no requirement to sign up to read the guide.