Four years ago, iOptron introduced the SkyGuider; which quickly became a tool of choice for serious astro-scape and wide-field astro-imaging. Since then, there has been an explosion of interest in this popular genre of outdoor photography. As users' imaginations pushed existing tracking devices to their limits, iOptron designers recognized it was time for the next generation camera tracker, introducing the iOptron SkyGuider Pro.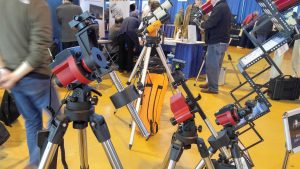 More recently, iOptron introduced the SkyTracker Pro, a compact tracker that weighs just 2.53 pounds (1150 grams), including its equatorial base, and has a payload capacity of 6.6 pounds (3 kilograms).
By comparison, the all new SkyGuider Pro camera tracker weighs 3.2 pounds (1.45 kilograms), including its base (and battery), and has a payload capacity of 11 pounds (5 kilograms). It offers high-precision silent tracking, built-in rechargeable power source, ST-4 guiding port, and a port to connect an optional hand controller.
SkyGuider Pro's improved precision polar scope maintains a fine engraved reticule and features adjustable illumination. You can even use it with iOptron's smart phone app, for quick and accurate polar alignment. The Dec mounting bracket allows you to balance a heavy camera and/or lens better, or even mount a light telescope or second camera.
The SkyGuider Pro features four tracking rates: (1) 1X or sidereal, (2) 1/2X for sky and landscape, (3) solar and (4) lunar. All four tracking rates function in both northern and southern hemispheres. iOptron has also added a bi-directional quick-slew mode to help quickly reframe your image without disrupting the camera's position. It's removable alt-azimuth base features a precision bubble level, degree markings for the altitude and fine-tune adjustments for both the alt and azimuth axes. You can also mount the SkyGuider Pro head (without the base) directly to any standard photographic tripod with 1/4-20 or 3/8-16 threads.
Introductory price is $299US. For more information, visit www.ioptron.com.
Features and Specifications Include:
– Maximum payload: 11 pounds (5 kilograms).
– Mount weight (sans base but with battery): 2.2 pounds (1 kilogram).
– Mount weight (including base and battery): 3.2 pounds (1.45kilograms).
– Body material: All metal.
– RA shaft: 35-mm steel.
– Work wheel: 880mm, 144-teeth aluminum alloy.
– RA worm: 15.2-mm brass.
– Bearing: Four pieces.
– Motor drive: DC servo motor with optical encoder.
– Tracking speeds: Solar, Lunar, Cel, 1/2 Cel and N/S.
– Fast-slew speed: 144x, forward and reverse.
– Guiding port: ST-4 compatible.
– Polar scope: AccuAlign drak field-illuminated (~6° FOV).
– Camera trigger: Yes.
– Hand controller: Optional, 8408 HC.
– Internal battery: Rechargeable Li-Poly, 3.7-volt, 2000mAh.
– Duration of Operation:up to 20 hours at 20°C.
– Power/charge port: Micro-USB (5-volt), 80-percent charge in five hours.
– Camera-mounting block: 62-mm, 3/8-16 thread.
– Body base connection: Vixen-style dovetail, 3/8-16 socket (1/4-20 converter included).
– Body dimensions: 133 by 115 by 95 mm (without alt-az base).
– Alt-Az adjustable base: Optional.
– Firmware upgradeable: Yes, via USB port.
– Operating temperatures: -10°C to ~40°C.
###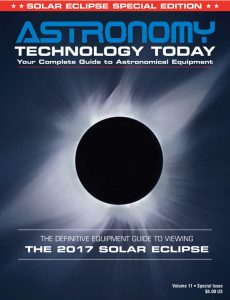 The Astronomy Technology Today editorial staff would like to take this opportunity to remind you of the availability of our Solar eclipse equipment guide – The Definitive Equipment Guide to the 2017 Solar Eclipse.  Our goal with the 40 page publication is to provide an easy-to-consume introduction to the technological options for viewing and imaging the Great Solar Eclipse. We cover the gamut of options available including building you own solar viewer, solar glasses, smart phones, DSLR cameras, using astronomy telescopes, solar telescopes, using binoculars, solar filters (including a DYI filter option), CCD astro cameras, astro video cameras, webcams and much more. You can view the guide on our website here – its free and there is no requirement to sign up to read the guide.