A number of new accessories from Orion Telescopes and Binoculars are now available.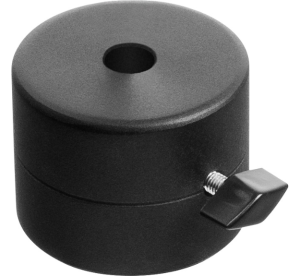 5.5-lb. Counterweight for EQ-13 and EQ-26 Mounts
For heavier telescopes and those used with heavier accessories, an extra counterweight or two may be needed to provide proper balance. Balancing an equatorial mount is important for smooth motion in both axes and accurate manual or electronic tracking.
The new Orion 5.5-lb. Counterweight is offered in versions designed to fit the counterweight shaft of the EQ-13 mount and EQ-26 mounts. It is a steel cylinder weight that has a black powdercoat finish and features a large lock knob that is easy to grip even with gloves on.
Orion Universal Dovetail Finder Scope Base
This versatile aluminum dovetail base is offered in a black anodized finish. It is designed to accept most Orion finder scopes, mini guide scopes, and reflex sight brackets as well as those of some other brands. It's an ideal base for custom installation of a finder scope on telescopes not already equipped with a compatible base, or for which you want to add a second finder scope or a guide scope.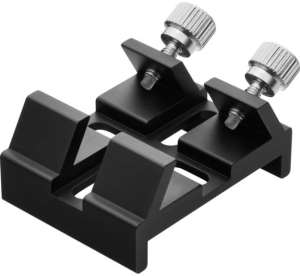 The dovetail base is designed for use on any telescope optical tube having a diameter of 4″ or more, including Schmidt-Cassegrain models. It is also ideal for mounting on a flat dovetail bar or plate. Cross slots for the mounting screws allow use with hole separations between 14mm and 39mm laterally or 14mm and 29mm front to back. Two large, knurled thumbscrews secure the finder scope bracket in place.
Mounting hardware includes two 16mm-length M4x0.7 stainless steel pan head Phillips machine screws and two M4x0.7 hex nuts. You may need different screws depending on your particular telescope or mounting platform. The dovetail base dimensions are 39mm L x 49.5mm W x 22.5mm H.
8.25″ Orion Dovetail Mounting Plate
The 8.25″ Orion Dovetail Mounting Plate provides a platform for coupling telescope optical tubes to any mount that utilizes the Vixen style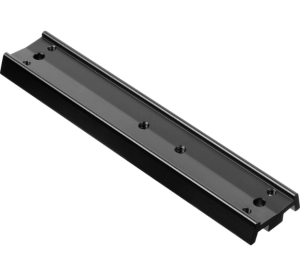 dovetail cradle. This "narrow-style" dovetail plate also works well with the Orion U-mount and VersaGo. The dovetail plate fits into the dovetail saddle on the mount head for easy attachment.
Ideal for those with more than one telescope to use with a single mount, the 8.25″ Orion Dovetail Mounting Plate is easy to use. Simply attach one to each of your telescopes, or telescope tube rings, and you'll be able to swap between your telescope optical tubes quickly and easily. Once you've attached your telescope or telescope tube rings to the dovetail mounting plate, you can change telescopes on the mount without using tools.
The dovetail plate is made of extruded, anodized aluminum and weighs 6.5oz. The plate also has 1/4″-20 threaded holes along the centerline, allowing attachment of accessories secured from above. Through holes (unthreaded) on the ends allow for attachment of standard tube rings.
Orion 1.25″ Quick-Collimation Cap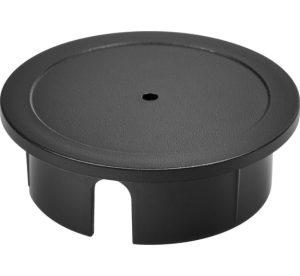 Keep your reflector telescope's optics precisely aligned with Orion's Quick-Collimation Cap. Aligning, or collimating, the optics is essential for achieving the best image quality and is especially important for telescopes with a fast focal ratio of f/5 or less. Collimation of a Newtonian reflector telescope involves carefully adjusting the tilt of the primary and secondary mirrors. The Quick-Collimation Cap makes the procedure fast, easy, and accurate.
The Quick-Collimation Cap is designed to fit 1.25″ focuser collars or 2″ focusers equipped with a 1.25″ adapter. Made of plastic, the cap has a small hole in the center and a disc of white reflective material on the underside. When you look into the installed cap you see the reflection of the bright disc with the dark hole in the center, which makes it easy to precisely center the primary and secondary mirrors with the adjustment screws or knobs on the telescope. Your eye stays centered – which is critical – relative to the focuser, thanks to the cap's center hole.
Basic collimation instructions for reflector telescopes are included with the Quick-Collimation Cap.
You can learn more about these new accessories from Orion Telescopes and Binoculars here.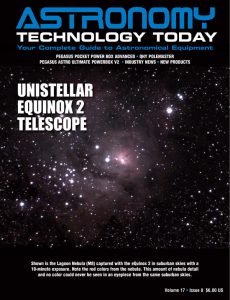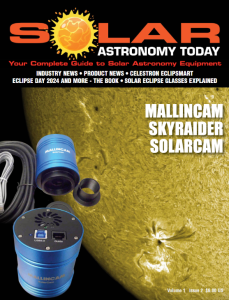 And to make it easier for you to get the most extensive news, articles and reviews that are only available in the magazine pages of Astronomy Technology Today, we are offering a 1-year magazine subscription for only $6! Or, for an even better deal, we are offering 2 years for only $9. Click here to get these deals which only will be available for a very limited time. You can also check out a free sample issue here.
The Sun is more active than it's been in years and if that's not enough, we have the upcoming Total Solar Eclipse on April 8, 2024! If you'd like to learn more about the technology behind solar observing, solar imaging and more, you can check out our new monthly magazine – Solar Astronomy Today. It's free to read, no subscription needed and available here. And if you are preparing for the upcoming eclipses and want to know your equipment options from solar glasses to the most out of this world solar viewing and imaging options, check out our free publication – The Definitive Guide to Viewing and Imaging the Sun  – simply click here and enjoy reading!