Recently iOptron announced that the iOptron HAE69 and HAE69EC SWG mounts have evolved into the iOptron HAE69 mounts with the initial offering the iOptron HAE69B iMate mount that features a powerful 64-bit ARM based on-board.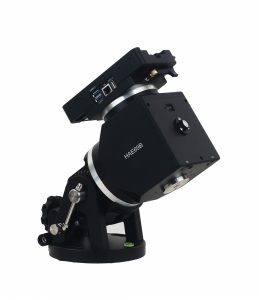 The company has just announced that they have made available the HAE69 Alt-Az/Eq mounts without the iMate (on-board computer) and are known as the HAE69C and HAE69CEC. The HAE69C and HAE69CEC have a USB port on the mount base and saddle that connect directly to the main board for mount control; they also feature built-in Wi-Fi for connection. Having an internal main board presents the option of using the mount with or without a handset. When purchased with a handset it comes with the Go2Nova 8411 w/OLED display. OLED displays are safe to use at an extremely wide range of temperatures. The HAE69CEC features a high precision RA axis encoder that delivers incredible tracking accuracy, enough that many will choose to image "sans" guiding.
As the iOptron team notes about the iOptron HAE69 mounts, "These lightweight, compact, medium payload titans will deliver an astronomy experience like never before. Imagine a mount head weighing in at less than 20 lbs. with a payload capability of 69 lbs., without needing a cumbersome counterweight or shaft. Applying iOptron's multi-decade experience creating precision mounts, the HAE69 makes this vision possible."
Utilizing state-of-the-art strain wave gear technology for both RA and DEC movement, the iOptron HAE69 mounts deliver unparalleled weight to payload efficiency. The black anodized, all metal CNC machined body is appealing to the eye and is a rugged platform that will perform at the highest level for many years to come. Unique features such as an electronic friction brake and power-down memory allow the mount to safely stop and resume a GoTo slew or continue tracking even after an abrupt power loss with no need to realign and start from the beginning.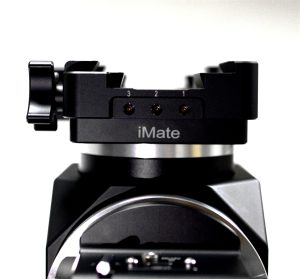 The iMate models feature a powerful 64-bit ARM based on-board computer with Wi-Fi, preloaded KStars planetarium software, Ekos control and automation tool and INDI drivers. This hardware-software combination will support the use of most current and future devices (cameras, focusers, filter wheels, etc.) allowing the user a broad choice of brands and models. With 32Gb eMMC storage along with a slot for an up to 64Gb TF (micro-SD) memory, the iMate has the ability to control and capture an entire automated imaging session. The iMate is cross-platform and can be used with Windows, MacOS, Linux, iOS and Android and other platforms.
The iOptron HAE69 SWG Alt-Az/Eq mounts now have an internal main board and no longer requires use with a handset. All the accessories can be connected to the iMate and there are no cable drag when the mount is operating.
The iOptron HAE69 mount specifications and features include:
– Mount: Advanced Strain Wave Altazimuth/Equatorial Mount
– RA gear system: Strain Wave Gear
– DEC gear system: Strain Wave Gear
– Reduction ratio: RA 800:1, DEC 800:1
– Payload w/o CW: 69 lbs (31 kg)
– Mount weight: 19.8 lbs (9 kg) with dovetail saddle
– Payload with CW: 79 lbs ( 36kg)
– Period: 270 second
– High precision encoder: Yes (RA)
– Azimuth adjustment range: ± 8°
– Latitude adjustment range: 0°~ 90°
– Available with or without built-in, open-source iMate computer with Wi-Fi, preloaded KStarts/Ekos/INDI driver and iPolarServer
– Drive motor: Stepper motor
– Structure Material: All metal, CNC machined
– Exterior finish: Anodized black
– Polar Scope: iPolar electronic polar scope (optional)
– Level indicator: Level bubble
– Control system: GOTONOVA/Commander
– Handset: Go2Nova 8411 w/OLED display (optional)
– Tracking: Automatic
– Maximum slew speed: 4.5º/sec
– Power consumption: 1A(Tracking), 1.6A(GOTO)
– Power: DC12V-6A (5.5/2.1mm DC plug)
– AC adapter: 100V ~ 240V (included, indoor use only)
– Power off brake: Electronic friction brake
– Power-down memory: Yes
– Ports on Dovetail Saddle: DC12V output and USB-C port
– Communication port: Yes (USB and Wi-Fi)
– Autoguide port: Yes (ST-4 compatible)
– Firmware upgrade: Yes (USB via Windows)
– Dovetail saddle: Vixen/Losmandy dual saddle
– Mounting base diameter: 152mm
– Tripod: Optional
– Counterweight Shaft: SS Φ20X200mm, 3/8″-16 thread (Optional)
– Counterweight: 10 lbs (4.5kg)(Optional)
– Operation temperature:  -20ºC ~ 40ºC
You can learn more about the iOptron HAE69 mount lineup here.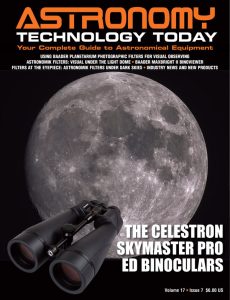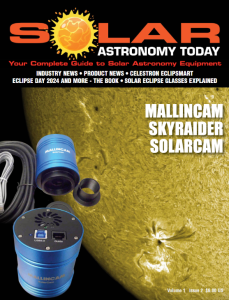 And to make it easier for you to get the most extensive news, articles and reviews that are only available in the magazine pages of Astronomy Technology Today, we are offering a 1-year magazine subscription for only $6! Or, for an even better deal, we are offering 2 years for only $9. Click here to get these deals which only will be available for a very limited time. You can also check out a free sample issue here.
The Sun is more active than it's been in years and if that's not enough, we have the Annular Solar Eclipse on October 14, 2023 and the Total Solar Eclipse on April 8, 2024! If you'd like to learn more about the technology behind solar observing, solar imaging and more, you can check out our new monthly magazine – Solar Astronomy Today. It's free to read, no subscription needed and available here. And if you are preparing for the upcoming eclipses and want to know your equipment options from solar glasses to the most out of this world solar viewing and imaging options, check out our free publication – The Definitive Guide to Viewing and Imaging the Sun  – simply click here and enjoy reading!