The Astro-Tech AT60EDP Astrograph from Astronomics is a unique apochromatic ED Petzval refractor astrograph that has a four lens fully multicoated optical system. It uses two ED elements in its configuration and offers the unique flat field ability inherent with the Petzval design.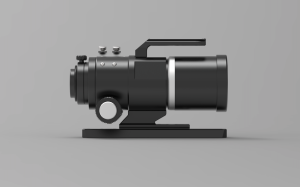 The telescope provides an exceptionally flat field for very wide images that are sharp edge-to-edge, with no need for a separate field flattener. As this instrument is designed as an astrograph, it can't be used visually.
The Astro-Tech AT60EDP Astrograph incorporates two ED (Extra-low Dispersion glass) elements in the optical design. This results in exceptional control of spurious color, for images that are free of the vestiges of annoying faint color halos around bright objects.
The finely machined AT60EDP has a dual speed 2.8″ rack-and-pinion focuser with a microfine 10:1 fine-focusing ratio. The standard equipment camera angle adjuster rotates a full 360 degrees to provide flexibility when creating photographic compositions. The rear of the instrument is threaded so you can have the most secure connection possible. Weighing in at 6 pounds 14 ounces, it is a well-built, quality instrument. And the optical tube and lens shade are offered in an understated, yet distinctive matte black finish accented with a silver trim ring.
Utilizing apochromatic Petzval dual ED refractor optics, the objective lens is a 60mm (2.36″) aperture, 300mm focal length, f/5 focal ratio Petzval design using two elements of ED glass, one FCD-100 and the other is FK-61, to reduce color halos and fringing to very low levels. The Petzval design has an extremely flat field to eliminate the curved field typical of fast focal ratio doublet and triplet refractors. Stars are focused and point-like to the edges of the field. This eliminates the need to buy an separate external field flattener that most refractors need to provide flat field images. The AT60EDP produces a 44mm image circle.
The Astro-Tech AT60EDP Astrograph offers fully multicoated optics and all lenses have the latest state-of-the-art antireflection multicoating's matched to their glass types on all air-to-glass surfaces for high light transmission and excellent contrast.
A self-storing retractable dew shield slows the formation of dew on the lens in cold weather to extend observing time. It also improves the contrast, similar to the effect of the lens shade on a camera lens when there is excessive ambient light at night.
The dual speed, precision-made 2.8″ rack-and-pinion focuser with threaded camera connection offers two coarse focusing knobs. The right knob also has a smaller concentric knob with 10:1 reduction gear fine focusing ratio. This provides exceptionally precise image control during critical imaging. The focus knobs have ribbed gripping surfaces so they are easy to operate, even while wearing gloves or mittens in cold weather.
The 2.8″ focuser drawtube terminates in a built-in camera angle adjuster as standard equipment. The camera angle adjuster lets you rotate your camera allowing you to frame your image as needed. A knob on the camera angle adjuster lets you lock the focuser at whatever angle required.
The 2.8″ diameter focuser drawtube also has a scale marked in 1mm increments, with 20mm of travel, so you can note individual focuser positions for easy return to the approximate correct focus when switching between cameras. A lock knob under the focuser lets you lock in your photographic focus. The 48mm t-thread back will unthread from the camera angle adjuster allowing you to thread a 28mm/2″ filter into the underside of the back that you just unthreaded.
The Astro-Tech AT60EDP Astrograph comes with a mounting shoe that attaches to a Vixen-style dovetail. This will also let you attach the rings to optional Vixen or Losmandy dovetail adapters for piggybacking the AT60EDP on top of a larger scope. The AT60EDP also comes with a handle for ease of mounting and carrying the instrument. The handle has Arca-Swiss capabilities.
Other supplied accessories include a slip-on metal dust cap and dovetail shoe on the upper left side of the optical tube for installing an optional multiple reticle red dot. A carry bag is also standard equipment.
You can learn more about the Astro-Tech AT60EDP Astrograph from Astronomics here.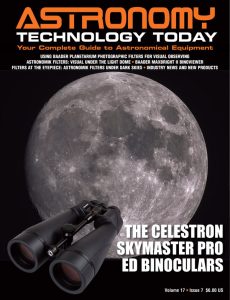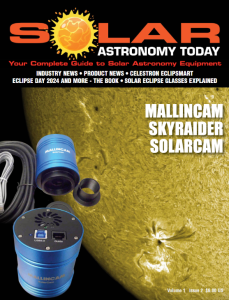 And to make it easier for you to get the most extensive news, articles and reviews that are only available in the magazine pages of Astronomy Technology Today, we are offering a 1-year magazine subscription for only $6! Or, for an even better deal, we are offering 2 years for only $9. Click here to get these deals which only will be available for a very limited time. You can also check out a free sample issue here.
The Sun is more active than it's been in years and if that's not enough, we have the Annular Solar Eclipse on October 14, 2023 and the Total Solar Eclipse on April 8, 2024! If you'd like to learn more about the technology behind solar observing, solar imaging and more, you can check out our new monthly magazine – Solar Astronomy Today. It's free to read, no subscription needed and available here. And if you are preparing for the upcoming eclipses and want to know your equipment options from solar glasses to the most out of this world solar viewing and imaging options, check out our free publication – The Definitive Guide to Viewing and Imaging the Sun  – simply click here and enjoy reading!