The Askar APO120 Triplet Refractor is a versatile imaging and visual telescope with the option of a 1.0x flattener and 0.8x focal reducer. It is the latest addition to Askar's line of modular telescopes joining the recently introduced Askar 103APO triplet refractor.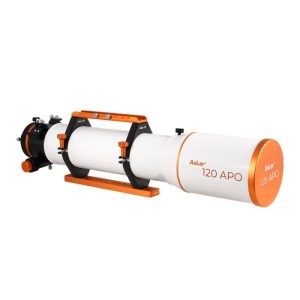 As a modular telescope system, the Askar APO120 Triplet Refractor has a removable body extension which is required when using the optional .8x reducer as well when using a binoviwer for visual use making this a choice scope for a versatile imaging system.
The Askar APO120 utilizes ED glass and yields high contrast images with pinpoint stars when imaging across a full frame imaging sensor. The telescope with its 120mm of aperture offers a focal ratio of f/7 with 840 mm of focal length. When utilizing the .8 reducer for imaging the focal length is 672mm.
Apart from its dedicated optical design, the Askar 120APO boasts meticulous attention to its mechanical engineering. This astrograph is both lightweight and compact, with a total weight of 6.5kg, including the tube rings, making it well-suited for astroimaging on the go. Each Askar 120APO comes with a distinctive name ring for quick identification.
The dew shield, with its retractable design and enlarged locking screws, offers user-friendly functionality. Its primary role is to shield the lens from external and internal light, safeguarding the lens itself.
To address concerns about limited space for attaching additional astronomical accessories, the Askar APO120 Triplet Refractor features two finder bases, one on each side of the focuser. This eliminates the need for disassembly when changing the position of the finder scope and provides additional mounting options for other accessories.
The handle of the Askar 120APO incorporates a special slot design, allowing it to serve as a base for installing a finder scope. Additionally, the handle has been extended by 60mm, enhancing the convenience of securing the astrograph with tube rings.
The tube rings are exceptionally lightweight, weighing only 780g, and are equipped with thumb screws for easy opening and locking. Furthermore, the base of the tube rings has been elevated to provide additional space.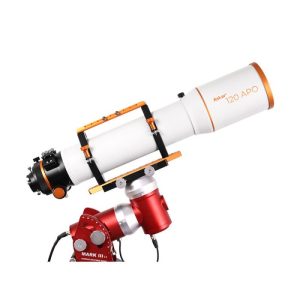 The standard Vixen dovetail plate, compatible with most equatorial mounts and bases on the market, has been extended to 290mm for improved balance. The handle's slot allows for adjustable spacing between the tube rings. For those seeking an alternative, a Losmandy dovetail plate is available for purchase, catering to different equatorial mount configurations.
The Askar 120APO offers two optional accessories: a 1x flattener and a 0.8x reducer, both equipped with built-in filter threads for direct filter mounting. Additionally, they come with M54/M48 adapters, making it convenient to attach accessories.
The 1x flattener maintains the telescope's focal ratio at f/7 when connected to the Askar 120APO. It corrects field curvature and coma, resulting in flatter field edges and more precise star points. The 0.8x reducer can reduce the Askar 120APO's focal ratio to f/5.6. This standard reducer also offers field flattening capabilities, enabling a wider field of view and shorter exposure times. It's ideal for capturing expansive regions of nebulae, star clusters, and swift-moving celestial objects.
For visual observation, the Askar 120APO prioritizes quality and functionality as it easily achieves focus when connected to 1.25″ or 2″ diagonals and various eyepieces. Thanks to its segmented lens tube design, it can also be paired with a binoviewer for immersive visual observations.
The Askar 120APO offers a dual-speed rack and pinion system with a generously sized 3.3-inch rigid focuser. This design is compatible with most motorized focusers available on the market. Additionally, a high-precision scale is integrated into its 10cm focusing range. The entire focuser barrel is CNC machined and incorporates an anti-reflective internal design along with a matte finish, ensuring optimal stray light reduction.
At the rear of the focuser is a 360 degree high-precision rotator, complete with precise scales for easy angle adjustment and recording. This feature facilitates precise rotation and is complemented by an enlarged rotator locking screw that provides secure locking even under high loads. The telescope interface at the rear includes a versatile 1.25″/2″ adapter for added flexibility.
The overall construction of the Askar 120APO tube is created through high-quality CNC machining, anodizing, and surface spray paint treatment. The eye-catching orange accents on the ivory-white tube lend it a stylish and elegant appearance.
The Askar APO120 Triplet Refractor specifications include:
– Aperture: 120mm
– Case Included            No
– Dovetail: Vixen
– Focal Length: 840mm
– Focal Ratio: f/7
– Focus Type: Helical
– Optical Tube Material: Aluminum
– Optical Coatings: Fully Multi-Coated
– Optical Tube Length: 722mm (when the dew shield is contracted) |804mm (when the dew shield is extended)
– Optical Tube Diameter: 120mm
– Optical Tube Weight: 5.7Kgs [12.5Ibs]
You can learn more about the Askar APO120 Triplet Refractor here.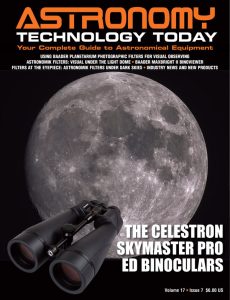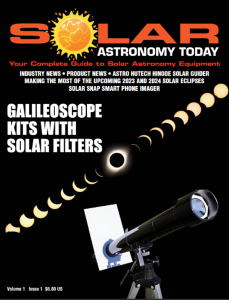 And to make it easier for you to get the most extensive news, articles and reviews that are only available in the magazine pages of Astronomy Technology Today, we are offering a 1-year magazine subscription for only $6! Or, for an even better deal, we are offering 2 years for only $9. Click here to get these deals which only will be available for a very limited time. You can also check out a free sample issue here.
The Sun is more active than it's been in years and if that's not enough, we have the Annular Solar Eclipse on October 14, 2023 and the Total Solar Eclipse on April 8, 2024! If you'd like to learn more about the technology behind solar observing, solar imaging and more, you can check out our new monthly magazine – Solar Astronomy Today. It's free to read, no subscription needed and available here. And if you are preparing for the upcoming eclipses and want to know your equipment options from solar glasses to the most out of this world solar viewing and imaging options, check out our free publication – The Definitive Guide to Viewing and Imaging the Sun  – simply click here and enjoy reading!