The Buckeyestargazer Shop is now offering a new design of its QHY 36mm Filter Centering Masks which are an essential accessory for easily mounting filters in a filter wheel and preventing light leaks. These newly redesigned Filter Centering Masks for QHY filter wheels and 36mm filters are thinner and even easier to install than the previous versions.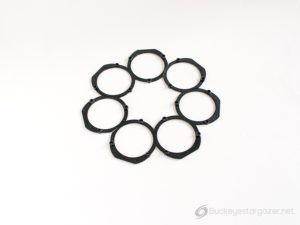 Joel Short, an astroimaging enthusiast located in Northern Indiana, opened the Buckeyestargazer Shop to make available items he has developed to offer affordable and uncomplicated accessories. As Short comments, "These are simple and practical items that I have found to be essential for amateur astronomers."
The QHY 36mm Filter Centering Masks will make it easy to center filters in a filter wheel and will block any potential light leak due to the filters being off-center in the filter disk seat. Simply place the filter in the filter wheel disk, place the Filter Centering Mask over the filter and fasten with screws.
The Filter Centering Masks are also available for ZWO, Atik, QSI, Moravian (GXCCD) and Pegasus Indigo filter wheels. They are sold in sets of 7, 8 or 9 depending on the filter mask size.
The Buckeyestargazer Shop has also recently introduced new ZWO EAF brackets for Baader Diamond Steeltrack, Stellarvue Access Telescopes and Lunt Telescopes focusers. The brackets provide the ability to mount a ZWO Electronic Automatic Focuser (EAF) onto your telescope or lens focuser. The ZWO supplied M4 screws are used to attach the EAF to the bracket. Where necessary, a coupler is provided to connect the EAF pinion shaft to the focuser pinion shaft and is held securely with M3 set screws.
You can learn more about the QHY 36mm Filter Centering Masks and other accessories here.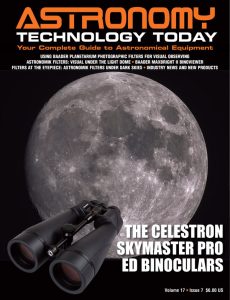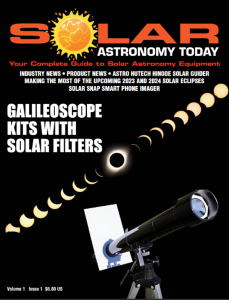 And to make it easier for you to get the most extensive news, articles and reviews that are only available in the magazine pages of Astronomy Technology Today, we are offering a 1-year magazine subscription for only $6! Or, for an even better deal, we are offering 2 years for only $9. Click here to get these deals which only will be available for a very limited time. You can also check out a free sample issue here.
The Sun is more active than it's been in years and if that's not enough, we have the Annular Solar Eclipse on October 14, 2023 and the Total Solar Eclipse on April 8, 2024! If you'd like to learn more about the technology behind solar observing, solar imaging and more, you can check out our new monthly magazine – Solar Astronomy Today. It's free to read, no subscription needed and available here. And if you are preparing for the upcoming eclipses and want to know your equipment options from solar glasses to the most out of this world solar viewing and imaging options, check out our free publication – The Definitive Guide to Viewing and Imaging the Sun  – simply click here and enjoy reading!