The Astra180 USB All Sky Camera from StarSync Trackers is a great tool to see sky conditions to aid your astronomy work or to just enjoy unique nighttime and daytime views of the sky.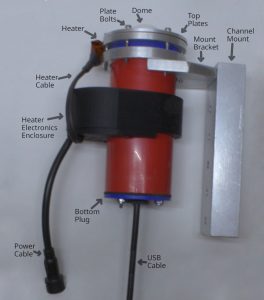 The Astra180 USB Camera is a USB astronomy camera in a weatherproof housing enclosure that can be mounted permanently outdoors. It is equipped with a fisheye lens and is designed to take wide field images of the sky. Inside the All-Sky Camera is a USB3 Player One Ceres-C camera which uses the Sony IMX224 sensor.
The All-Sky Camera is equipped with a ~ 3-watt dew heater. To prevent the camera from overheating and minimize thermal noise, the dew heater is outfitted with a temperature sensor that activates the heater only when temperatures are below ~70F(21C) and is turned off when it is higher than ~80F(27C).
The Astra180 USB's camera is powered by the USB connection itself, while the heater needs a separate DC power with 5 Volts and rated for at least 1.5 Amps. The camera's power supply features a weather-resistant connector and comes equipped with a 32-ft low-voltage cable on one end and a 9-ft AC voltage cable on the other. The camera's USB is connected directly to a computer using a USB cable, which is plugged into the computer's USB port.
There are several software options for utilizing the Astra180 USB All Sky Camera. General image capture software such as KStars/EKOS, NINA, FireCapture, SharpCap, MaximDL and others can be used to operate the Astra180 but may not unlock all of its abilities. UFOCapture is a software option that is intended for capturing celestial occurrences such as vivid meteors and has a longstanding history of recording brilliant fireballs.
The AllSkEye application is a free, dedicated Windows 'All-Sky' imaging app for use with astronomical all-sky cameras. This software package offers an extensive range of features and includes built-in drivers and provides support for both ASCOM and INDIGO. The software offers numerous features specifically tailored for all-sky use. While the free version is highly capable on its own, the PRO version, which comes with a nominal fee, offers additional exclusive features.
The Astra180 USB All Sky Camera features and capabilities include:
– Get instant status of remote or local observatory sky conditions
– See clouds before they get in your frame
– Visualize sky conditions from night to night
– Can show the Milky Way (event winter Milky Way), Aurora, smoke, air glow, even high thin clouds
– Compatible with many software packages
– ASCOM Compatible
– INDI Compatible
– 180°x130° and 180°x180° lens options available
– USB 3.0 (USB 2.0 compatible)
– Capable of capture still images and video
– 1.2 Mega Pixels (1304×976)
You can learn more about the Astra180 USB All Sky Camera here.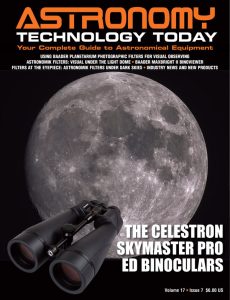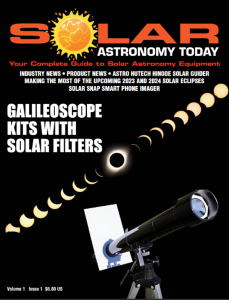 And to make it easier for you to get the most extensive news, articles and reviews that are only available in the magazine pages of Astronomy Technology Today, we are offering a 1-year magazine subscription for only $6! Or, for an even better deal, we are offering 2 years for only $9. Click here to get these deals which only will be available for a very limited time. You can also check out a free sample issue here.
The Sun is more active than it's been in years and if that's not enough, we have the Annular Solar Eclipse on October 14, 2023 and the Total Solar Eclipse on April 8, 2024! If you'd like to learn more about the technology behind solar observing, solar imaging and more, you can check out our new monthly magazine – Solar Astronomy Today. It's free to read, no subscription needed and available here. And if you are preparing for the upcoming eclipses and want to know your equipment options from solar glasses to the most out of this world solar viewing and imaging options, check out our free publication – The Definitive Guide to Viewing and Imaging the Sun  – simply click here and enjoy reading!