Dark Dragons Astronomy Observatory Control products are now available for remote observatory control systems. Dark Dragons Astronomy is a new company based in Charlotte, North Carolina offering hardware and iOS applications for astroimaging solutions.
The company was founded by two astrophotographers, Rick Bassham and Jeffrey Geiss, with a cumulative 20 years of imaging experience. As they noted about the launch of their new company, "We often found gaps in the capabilities of complex mobile imaging setups and set out to design solutions for our own enjoyment of the hobby. Realizing that others had the same needs, we began the process of moving our DIY designs into consumer products that filled those gaps."
They also noted, "Our hardware boasts the latest advancements in driverless hardware ASCOM Alpaca integration, ensuring unparalleled performance, durability, and reliability. Add the on-hardware web server control and you now have redundancy in ensuring your remote observatory is safely controllable."
Dark Dragons Astronomy Observatory Control products offerings include:
DragonLAIR Roll-Off Roof Controller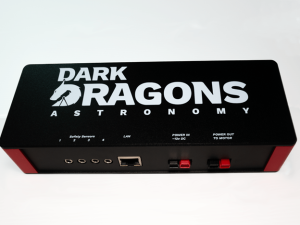 The DragonLAIR Roll-Off Roof Controller is a purpose-built DC powered roof control system that eliminates the need for complex systems of relays and wiring to control an observatory roof. In Windows, the native ASCOM Alpaca interface provides the ability to get up and running without any drivers needed.
As a standalone device, the DragonLAIR doesn't need a dedicated PC to run, it connects directly to an existing network via ethernet. The built-in web server provides the ability to control the roof with a smart phone or desktop web browser as well as through the included hand controller for moving the roof in person. And with up to 500W of output to the motor, it provides the ability to move up to 16-foot roofs with ease using the DragonLair Roof motor.
The DragonLAIR features four ports for connecting retro-reflector safety sensors. If any of the sensors doesn't report a reflection, the roof won't move. This can be used for pinch points near the edge of a roof, or one can mount the reflectors to a telescope tube to make sure the roof won't move unless the scope is parked. The integrated state machine ensures the roof only moves when it is safe.
Functionality also includes the ability to pair the DragonLAIR with an existing weather station and control software to automatically park mounts and close a roof when bad weather threatens. This requires setup in control software, such as KStars, N.I.N.A. or SGP. The DragonLAIR does not integrate directly with weather stations or a mount on its own.
DragonLIGHT Mobile App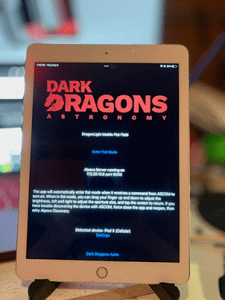 The DragonLIGHT Mobile App transforms an iPad into a dynamic flat panel for mobile astrophotography. With manual brightness control and compatibility with ASCOM Alpaca, it can capture precise calibration frames tailored to a specific imaging setup. Harnessing the iPad's impressive dynamic range, DragonLIGHT Mobile ensures even illumination while offering the flexibility to create custom aperture masks for limiting light bleed to its surroundings. What sets it apart is that it's not only powerful but also cost-effective, significantly cheaper than DIY alternatives.
DragonLIGHT Flat Light Controller
The DragonLIGHT Flat Light Controller is a networked flat light control system for personal observatories. As an IoT device, the DragonLIGHT doesn't need a dedicated PC to run, it connects directly to an existing network via ethernet. The built-in web server can control flat light with a phone or desktop web browser. There is also the ability to use the native ASCOM Alpaca interface or INDI driver to control through imaging software.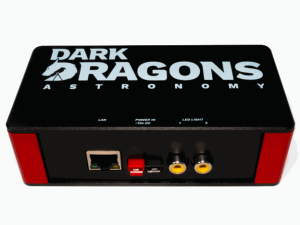 The DragonLIGHT flat panel controller presents an innovative approach to taking calibration images. This device provides the ability to effortlessly adjust the illumination of a flat panel using either the company's large direct illumination flat panels, or to use indirect lighting on a flat white surface, much like the larger professional observatories. Whether the need is to dim the lights for a fast large aperture scope or raise the level for a slow scope with narrowband filters, the DragonLIGHT offers precise control with just a few taps.
DragonLIGHT Flat Light Panel
The DragonLIGHT Panel pairs with the DragonLIGHT Controller to provide perfect flat calibration frames every time. This 20″x24″ flat light panel is large enough for all but the largest telescopes.
The replaceable acrylic diffuser allows for the perfect exposure length for flat exposures. It is available with a (brightest) 69%, 45%, 9%, or (darkest) 0.1% translucent white diffuser and other options are available upon request.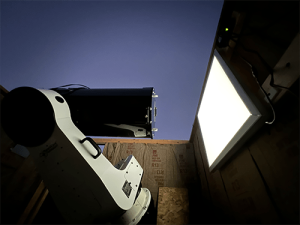 The company recommends the 45% diffuser for slow telescopes F/10 and above, and the 9% for faster scopes. When paired with the DragonLIGHT Controller, one can automate flat exposures with imaging software.
As the team notes, "As an example, we used a 45% diffuser with the DragonLIGHT Controller, a PlaneWave CDK 12.5″ F/8, and ZWO ASI6200MC-Pro at 100 gain and 1 second exposure to achieve an average ADU of about 32000 with the DragonLIGHT set to a brightness of 20 out of 255."
Other Products
The company's 600W Roll Off Roof Motor600 is powerful enough to move a 16-foot roof with ease. Paired with the DragonLAIR roof controller, one can automate the opening and closing of an observatory roof. The 13.8 Volt 600W Power Supply provides enough AC/DC power supply to move a roof and operate 12V devices in an observatory.
You can learn more about Dark Dragons Astronomy Observatory Control products here.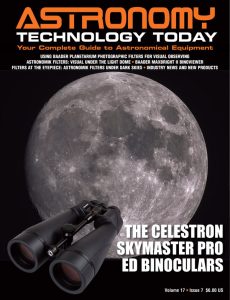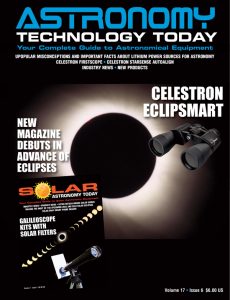 And to make it easier for you to get the most extensive news, articles and reviews that are only available in the magazine pages of Astronomy Technology Today, we are offering a 1-year magazine subscription for only $6! Or, for an even better deal, we are offering 2 years for only $9. Click here to get these deals which only will be available for a very limited time. You can also check out a free sample issue here.
The Sun is more active than it's been in years and if that's not enough, we have the Annular Solar Eclipse on October 14, 2023 and the Total Solar Eclipse on April 8, 2024! If you'd like to learn more about the technology behind solar observing, solar imaging and more, you can check out our new monthly magazine – Solar Astronomy Today. It's free to read, no subscription needed and available here. And if you are preparing for the upcoming eclipses and want to know your equipment options from solar glasses to the most out of this world solar viewing and imaging options, check out our free publication – The Definitive Guide to Viewing and Imaging the Sun  – simply click here and enjoy reading!