The TS-Optics 80mm f/4.8 FPL53 Triplet Apo is a compact apo with FPL53 APO glass that is designed for observing and astrophotography offering a color-free image and solid mechanics.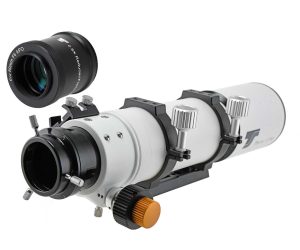 The TS-Optics 80mm f/4.8 FPL53 Triplet Apo incorporates a 3-element 0.8x field corrector that was developed for 80mm f/6 triplet apos and provides full correction up to full format. The corrector is screwed to the 2.5″ rack and pinion focuser to prevent tilting. The working distance from the M48 thread is 55 mm, which simplifies the adaptation of cameras. A 2″ filter thread is also integrated in the camera adapter.
Highlights of the TS-Optics 80mm f/4.8 FPL53 Triplet Apo include:
– Stiffly mounted focuser with rack and pinion adjustment. The storage is decoupled from the adjustment of the extension tube.
– Oversized extension tube with 60 mm free opening for full illumination even with full format.
– 1:10 micro reduction for ultra-precise focusing.
– High-quality CNC tube with inner screens and excellent inner blackening – no disturbing stray light.
– M63x1 internal thread on the drawtube.
– M68x1 internal thread on the connection adapter, to get to the thread, 3 grub screws must be loosened.
– The dew cap can be pushed in – the transport length is then only 37.5 centimeters.
– Modern and multi-coated 3-element lens with APO element made of FPL53.
– High-quality CNC clamps and GP-style prism rail with photo tripod connection.
– Pipe clamps have three at the top M6 threaded holes, one in the middle and two with a center distance of 30 mm.
Specifications include:
– Lens construction: Apochromatic triplet with element from FPL53
– Opening: 80mm
– Focal length: 480mm
– Aperture: f/6
– Aperture with photo corrector: f/4.8
– Tube material: Aluminum
– Tube length with inserted dew cap: 375mm
– Tube length with dew shield pulled out: 435mm
– Tube diameter: 89mm
– Dew cap diameter: 103.3mm
– Design of the dew cap: Retractable
– Tube weight with tube rings: 3.14kg
– Focuser: 2.5″ RAP focuser with 1/11 reduction, reinforced plain bearing
– Load capacity of the pull-out: 5kg
– Focus travel: 5mm
– Corrector: Factor 0.8x
– Construction: 3-element construction
– Working distance: 55 mm from the M48 thread and 68.3 mm from the M63 thread
– Length: 65mm
– Weight: 450g
You can learn more about the TS-Optics 80mm f/4.8 FPL53 Triplet Apo here.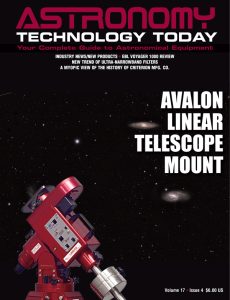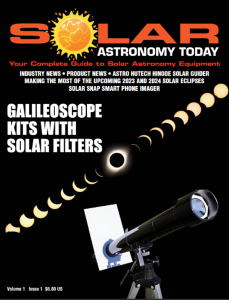 And to make it easier for you to get the most extensive news, articles and reviews that are only available in the magazine pages of Astronomy Technology Today, we are offering a 1-year magazine subscription for only $6! Or, for an even better deal, we are offering 2 years for only $9. Click here to get these deals which only will be available for a very limited time. You can also check out a free sample issue here.
The Sun is more active than it's been in years and if that's not enough, we have the Annular Solar Eclipse on October 14, 2023 and the Total Solar Eclipse on April 8, 2024! If you'd like to learn more about the technology behind solar observing, solar imaging and more, you can check out our new monthly magazine – Solar Astronomy Today. It's free to read, no subscription needed and available here. And if you are preparing for the upcoming eclipses and want to know your equipment options from solar glasses to the most out of this world solar viewing and imaging options, check out our free publication – The Definitive Guide to Viewing and Imaging the Sun  – simply click here and enjoy reading!