In celebration of a half a century of publication, Astronomy Magazine has published a special magazine issue celebrating its 50 years.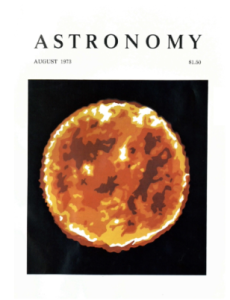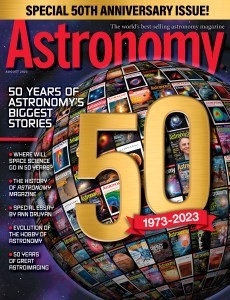 The Astronomy Magazine 50th Anniversary issue dives into the origins and history of the magazine. As noted by the Astronomy team, on May 27, 1973, a young journalist named Stephen Walther filed incorporation papers to begin publishing Astronomy magazine and the first issue was published on August 1973.
David Eicher has been with the magazine for 40 of those years and has served as its chief editor since 2002. As he notes in a recent blog post on the Astronomy website, "In mid-September 1982, I arrived at our little stone building at AstroMedia Corp. in Milwaukee for my first day of work. I had no idea what adventures awaited. I was hired as the junior assistant editor of Astronomy magazine, and I couldn't have been more excited. Straight from Miami University in southwestern Ohio, I brought the observer's magazine I had started in high school, Deep Sky, with me. I was 21, wide-eyed, and ready to explore everything the astronomy world had to offer — and to report on it too. This year we celebrate Astronomy's 50th anniversary. I've been on the staff for only 40 of those years, but I've seen the majority of the history of this title."
He also walks readers through a historical journey of the transformation of the magazine from the early 70's through today. You can read the entire article here. And you learn more about how to access the Astronomy Magazine 50th Anniversary issue here.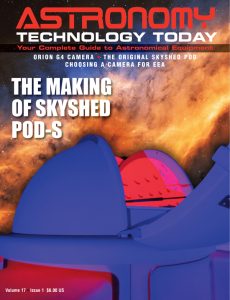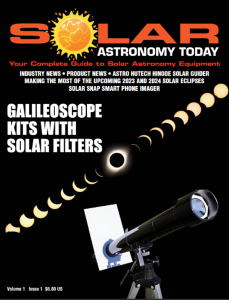 And to make it easier for you to get the most extensive news, articles and reviews that are only available in the magazine pages of Astronomy Technology Today, we are offering a 1-year magazine subscription for only $6! Or, for an even better deal, we are offering 2 years for only $9. Click here to get these deals which only will be available for a very limited time. You can also check out a free sample issue here.
The Sun is more active than it's been in years and if that's not enough, we have the Annular Solar Eclipse on October 14, 2023 and the Total Solar Eclipse on April 8, 2024! If you'd like to learn more about the technology behind solar observing, solar imaging and more, you can check out our new monthly magazine – Solar Astronomy Today. It's free to read, no subscription needed and available here. And if you are preparing for the upcoming eclipses and want to know your equipment options from solar glasses to the most out of this world solar viewing and imaging options, check out our free publication – The Definitive Guide to Viewing and Imaging the Sun  – simply click here and enjoy reading!