NightWatch: A Practical Guide to Viewing the Universe, 5th Edition by Terence Dickinson will be available this September from publisher FireFly Books. The publication has been given a complete overhaul to keep it relevant today and through the 21st Century.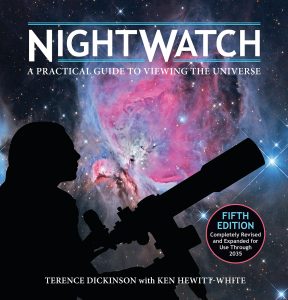 FireFly Books Melissa Zilberberg notes, "As Terence Dickinson's classic, bestselling amateur astronomer's guide turns 40, we are releasing a completely overhauled and updated edition that will make this guide useful up to 2035. This project was started with Dickinson and a small editorial team. Dickinson passed away earlier this year in February 2023 but astronomy writer and sky observer Ken Hewitt-White and the team continued the work."
A central aspect to this new edition is the subtle improvements to the unique seasonal star charts that present a 360-degree simulation of the night sky on one page and identify the stars and constellations on the facing page. Yet it is Dickinson's clear, jargon-free language that will continue to inspire hundreds of thousands of people around the world to take up recreational astronomy.
Much has happened in amateur astronomy since the revised Fourth Edition of NightWatch was published in 2006. With the new NightWatch: A Practical Guide to Viewing the Universe, 5th Edition the text has been substantially revised and updated throughout all 13 chapters. Moreover, the book has been completely redesigned and most of its many photographs have been replaced. To accommodate the extensive revisions, NightWatch has grown from 192 pages to 208 pages.
To help cover the latest on amateur astronomy gadgets and gear, renowned astrophotographer and astronomy writer Alan Dyer has contributed an entirely new chapter on digital astrophotography. Dyer has also modernized a key portion of an enlarged chapter on stargazing equipment, creating a welcoming place in NightWatch for today's computerized telescopes.
As FireFly Books' Melissa Zilberberg also notes, "With the release of the Fifth Edition, we are also launching a new website, NightWatchBook.com, that will offer links to additional resources and will be regularly updated with information on new celestial events and equipment."
Designed for use indoors and outdoors, NightWatch is useful both as a reference book indoors and as a constellation guide under the stars at night. The seasonal charts in Chapter 4 are ideal for learning your way around the sky. The concealed spiral binding allows the book to open flat for easy use at the telescope. The 20 sky atlas charts in Chapter 6 are labeled with text that works under red light, preferred for maintaining night vision.
Highlights of NightWatch: A Practical Guide to Viewing the Universe, 5th Edition include:
Chapters 1 to 3: Provide an introduction to what's in the night sky and how it moves. One entire chapter is dedicated to "The Universe in Eleven Steps," a cosmic zoom from Earth to the edge of the known universe.
Chapter 4; Features NightWatch's highly regarded seasonal star charts for the northern hemisphere, with pointer lines to help you easily locate the brightest stars and constellations.
Chapter 5: Provides advice for anyone looking to purchase binoculars or a telescope, with recommendations of models to buy (and those to avoid), plus tips for using computerized scopes.
Chapter 6: Presents the main categories of deep-sky objects  —  clusters, nebulas and galaxies — as well as an atlas of selected regions of the sky, mapping dozens of the best targets for small telescopes.
Chapters 7 to 10: Explain in simple terms what you can expect to see when observing the Moon and planets, the Sun (safely), eclipses, comets, meteors and auroras.
Chapter 11: Offers an introduction to digital astrophotography. Employing simple equipment and basic techniques, you'll learn how to take photos of the night sky with your phone, DSLR or mirrorless camera.
Chapter 12: Celebrates the splendors of the southern-hemisphere sky for those planning a trip Down Under. Includes seasonal star charts of the southern constellations.
Author Terence Dickinson
For those who aren't familiar with Terence Dickinson, here is a little background of one of the world's most famous amateur astronomers.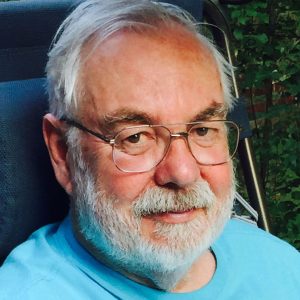 Terence became fascinated with astronomy at age 5, when he saw a brilliant meteor from the sidewalk in front of his home in Toronto. This early interest soon became the defining characteristic of Dickinson's life and eventually led him to a career as an astronomy writer and editor, renowned for unraveling and explaining the mysteries of the cosmos.
His down-to-earth style made him a best-selling author of 14 astronomy books and hundreds of articles on the subject. In 1994, he cofounded SkyNews, Canada's national astronomy magazine, and was the editor for two decades. That same year, the International Astronomical Union named asteroid 5272 Dickinson in his honor.
He has received several national and international awards, among them the Royal Canadian Institute's Sandford Fleming Medal for outstanding contributions to science communication, the New York Academy of Sciences Book of the Year Award and the Astronomical Society of the Pacific's Klumpke-Roberts Award.
A recipient of the Order of Canada, the nation's highest civilian honor, he has also received honorary doctorates from Queen's University in Kingston, Ontario, and Trent University in Peterborough, Ontario. Sadly, Terence died in early 2023 after a long battle with Parkinson's disease, just as this edition of NightWatch was being completed but his legacy lives on in this latest edition of NightWatch and through his many other efforts and contributions.
You can learn more about NightWatch: A Practical Guide to Viewing the Universe, 5th Edition here.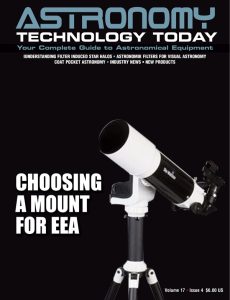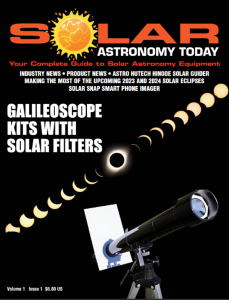 And to make it easier for you to get the most extensive news, articles and reviews that are only available in the magazine pages of Astronomy Technology Today, we are offering a 1-year magazine subscription for only $6! Or, for an even better deal, we are offering 2 years for only $9. Click here to get these deals which only will be available for a very limited time. You can also check out a free sample issue here.
The Sun is more active than it's been in years and if that's not enough, we have the Annular Solar Eclipse on October 14, 2023 and the Total Solar Eclipse on April 8, 2024! If you'd like to learn more about the technology behind solar observing, solar imaging and more, you can check out our new monthly magazine – Solar Astronomy Today. It's free to read, no subscription needed and available here. And if you are preparing for the upcoming eclipses and want to know your equipment options from solar glasses to the most out of this world solar viewing and imaging options, check out our free publication – The Definitive Guide to Viewing and Imaging the Sun  – simply click here and enjoy reading!