The Celestron StarSense Autoguider is an all-in-one solution for observing and imaging that is deceptively powerful and compact as it connects a Celestron mount to enhance its pointing accuracy and helps you create sharp, long-exposure images with ease. Whether you are an experienced astroimager or just starting in the hobby, adding this unique accessory will ensure you have more quality time under the stars.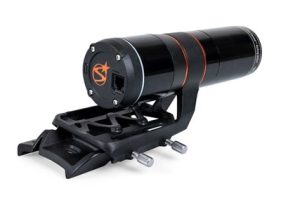 The Celestron StarSense Autoguider aligns your telescope to the night sky in about three minutes with the press of a button – no user input is needed. Celestron's patented StarSense technology "sees" star patterns overhead and matches them to its internal database to automatically orient the telescope. This feature eliminates the hassle of manually aligning your telescope, so you can focus on what's important – observing and imaging.
Celestron's computerized mounts already do an excellent job with pointing accuracy, but your mount gets even better when you add the StarSense Autoguider. Instead of placing celestial objects within the telescope's field of view, Precise GoTo places them in the center of the field -even if you are using a high-powered eyepiece or today's small imaging sensors.
As the Celestron team notes, "Capturing images of astronomical objects is one of the most exciting things you can do with your telescope. But to capture stunning deep-sky astroimages, you need autoguiding – the power to make tiny adjustments to the mount's tracking to keep your target locked in over long exposures. Previous autoguiding setups were complex and expensive, usually involving a separate autoguiding camera, a guidescope, and a computer. StarSense Autoguider replaces all that – so even beginners can dive head-first into the world of imaging. Your targets are crisp and detailed, while background stars look like sharp pinpoints, never oblong or streaky."
Many users will find that adding the Celestron StarSense Autoguider to their setup improves accuracy so that they no longer need to polar align their German equatorial mounts for most casual observing and imaging. But if you want to achieve the best accuracy possible, the autoguider simply simplifies the polar alignment process. Just follow the on-screen instructions on the mount's hand control or in the Celestron CPWI software, and you can complete a full polar alignment in less than five minutes.
The autoguider features a high-quality 4-element optical design devised by the famed optical designer Mark Ackermann and its unique design delivers noticeably sharper images. The optical tube is threaded to accept 2" astronomical filters and you can add an IR-pass filter to align your mount in twilight or a neutral density filter for daytime focusing.
The Celestron StarSense Autoguider also includes an onboard computer and a highly sensitive Sony IMX290-DLL monochrome CMOS image sensor, all working together to provide exceptional guiding accuracy. You can view a live image from the camera via your PC if desired.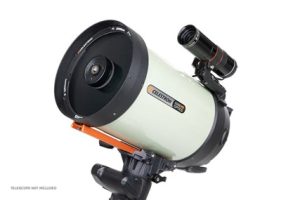 Advanced users will be able to fine-tune their autoguiding setup via CPWI's advanced settings. You can enable dithering options to move the mount slightly between camera sub-exposures, which may help your image processing software perform at its best.
You can also guide on a comet via CPWI. Simply select the comet from the software's regularly updated database of more than 100,000 celestial objects. Guiding directly on the comet will produce better results than guiding on nearby stars.
And as the Celestron team also notes, "Best of all, you can unlock more exciting features like these throughout the lifetime of your StarSense Autoguider. Your purchase grants you access to all subsequent firmware updates. Celestron engineers are constantly adding new functionality to our products, and with a simple firmware update, you'll always be able to enjoy the latest and greatest. You choose how you want to control your StarSense Autoguider. It works with your NexStar+ hand control, CPWI telescope control software via a wired PC connection or WiFi (with a WiFi-enabled mount or the SkyPortal WiFi Module accessory). The autoguider also works with the rest of your Celestron accessories for a seamless solution that fits in perfectly with your telescope setup."
The Celestron StarSense Autoguider specifications include:
– Lens Design: Double-Gauss
– Aperture: 28mm (1.10″)
– Focal Length: 120mm (4.72″)
– Focal Ratio: f/4.3
– Number of Elements: 4
– Coatings: Fully Multi-Coated
– CMOS Image Sensor: Sony IMX290LLR, monochrome, back-illuminated
– Sensor Size: 6.46mm diagonal
– Pixel Size: 2.9μm x 2.9μm
– Number of Effective Pixels: 2.13M
– Onboard Computer: Integrated Computer-On-Module
– Primary Arm core: 2x Cortex® -A53 up to 1.4 GHz
– Secondary Arm core: 1x Cortex-M7 up to 600 MHz
– RAM: 512 MB
– ROM: 4 GB
– GPU: GC7000UltraLite
– Operating Temperature: -25°C to 85°C
– Ports: AUX and USB-C
– AUX: For connection to Celestron mounts
– USB-C: For PC connection for live view, USB 3.1
– Housing: Aluminum with plastic covers, threaded for 2″ filters
The Celestron StarSense Autoguider works with most current Celestron computerized mounts, both German equatorial and altazimuth. You can learn more here.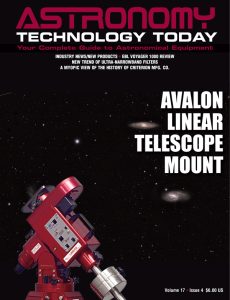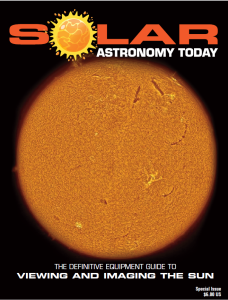 And to make it easier for you to get the most extensive news, articles and reviews that are only available in the magazine pages of Astronomy Technology Today, we are offering a 1-year magazine subscription for only $6! Or, for an even better deal, we are offering 2 years for only $9. Click here to get these deals which only will be available for a very limited time. You can also check out a free sample issue here.
The Sun is more active than it's been in years and if that's not enough, we have the Annular Solar Eclipse on October 14, 2023 and the Total Solar Eclipse on April 8, 2024! If you'd like to learn more about the technology behind solar observing, solar imaging and more, you can check out our free publication, "The Definitive Guide to Viewing and Imaging the Sun". You don't have to sign up or provide any information, simply click here and enjoy reading!