The Opotlong L-Ultimate Light Pollution Filter is a 3nm dual band designed to drastically reduce the effect of light pollution. The filter isolates the nebulae emissions into H-Alpha (red) and OIII (green-blue).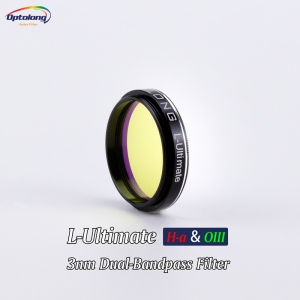 It is effective in blocking light pollution, maximizing the signal from nebulae and darkening the sky background. This includes blocking artificial light from mercury vapor lamps, high and low pressure sodium vapor lights and unwanted natural light caused by the emission of neutral oxygen in the atmosphere. The filter also maximizes the transmission of the main emission lines of the nebula in OIII (496nm and 500nm) and H-alpha (656nm).
The Opotlong L-Ultimate Light Pollution Filter is designed to be used with DSLR, CMOS and CCD cameras and is suitable for telescopes with an f-ratio of f/4 or higher.
The filter is different from the Opotlong L-eNhance and L-eXtreme series of dual-narrowband filters in that L-Ultimate is a dual-3nm bandwidth filter that only passes through Ha and OIII emission lines. The L-Ultimate has also been optimized in terms of halo performance so that there is no obvious halo when shooting on a bright object.
The Opotlong L-Ultimate Light Pollution Filter specifications include:
– Size: 1.25″ mounted (M28.5×0.6 thread)
– Thickness: 1.85mm
– FWHM: OIII 3nm, Ha 3nm
– Blocking Range: 300-1000nm
– Blocking: OD4
– Surface quality: 60/40
– Transmitted Wavefront RMS: λ/4
You can learn more about the Opotlong L-Ultimate Light Pollution Filter here.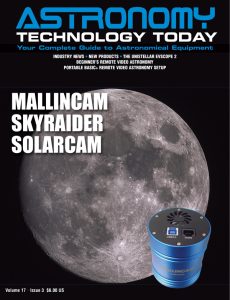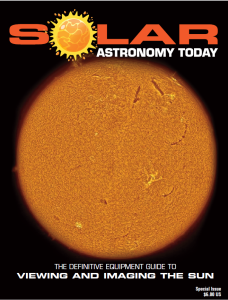 And to make it easier for you to get the most extensive news, articles and reviews that are only available in the magazine pages of Astronomy Technology Today, we are offering a 1-year magazine subscription for only $6! Or, for an even better deal, we are offering 2 years for only $9. Click here to get these deals which only will be available for a very limited time. You can also check out a free sample issue here.
The Sun is more active than it's been in years and if that's not enough, we have the Annular Solar Eclipse on October 14, 2023 and the Total Solar Eclipse on April 8, 2024! If you'd like to learn more about the technology behind solar observing, solar imaging and more, you can check out our free publication, "The Definitive Guide to Viewing and Imaging the Sun". You don't have to sign up or provide any information, simply click here and enjoy reading!