The Star Hop Trainer App was created for iOS and Android to help those new to using a telescope learn how to find objects to view. In the recently released version App v1.4.0, the publisher has added new "star hops" for users to experience.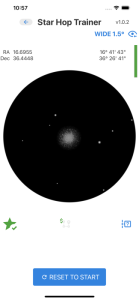 While seasoned observers may take it for granted, star hopping is the skill of learning to find telescope targets by following patterns in the stars to get to the object. This app helps to teach those skills so that the time you get out with the telescope is more productive.
As the publisher notes about creating the Star Hop Trainer App, "When I bought my first manual telescope (a used 18" Obsession) I lucked out. It was a clear night the next night! Then I went outside with it and spent 45 minutes trying to find my first DSO. Pointing the tiny, tiny view into the big sky accurately was a lot harder than I thought. So, after a 3-hour session I had seen 4 objects! Then it was cloudy for 3 weeks straight. And I live in Arizona! I thought then it would be great to have a tool to help people learn how to hop from star to star while comfy inside or during the day or on those cloudy nights!  7 years later and I finally have it working and up for both IOS and Android."
There is a have a standard version which is free and a Pro version which provides more advanced features including:
– Night mode
– Enter specific telescope info and eyepieces so the view in the app matches the view from a telescope.
– A light pollution setting which will make the star field closer to the viewing area.
– A progress chart to show which hops have been made and those not hopped yet.
– A custom hop page where users can enter any hop they like to practice (planets, comets, supernova, asteroid, etc.).
The iOS app is available here. The Android app is available here.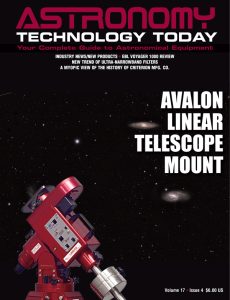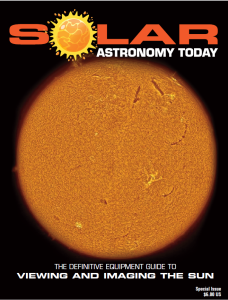 And to make it easier for you to get the most extensive news, articles and reviews that are only available in the magazine pages of Astronomy Technology Today, we are offering a 1-year magazine subscription for only $6! Or, for an even better deal, we are offering 2 years for only $9. Click here to get these deals which only will be available for a very limited time. You can also check out a free sample issue here.
The Sun is more active than it's been in years and if that's not enough, we have the Annular Solar Eclipse on October 14, 2023 and the Total Solar Eclipse on April 8, 2024! If you'd like to learn more about the technology behind solar observing, solar imaging and more, you can check out our free publication, "The Definitive Guide to Viewing and Imaging the Sun". You don't have to sign up or provide any information, simply click here and enjoy reading!