Astrophotography CAD is software suite from NovaLab Observatory designed to help astronomers choose, optimize and design astrophotography systems and plan exposure settings for superior imaging under a variety observing conditions.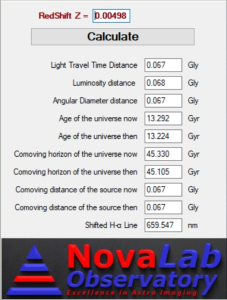 Astrophotography CAD provides the ability to calculate your system's limiting magnitude, predict SNR and see how changing components will affect it. It can help predict the impact of seeing, sky pollution, haze, target and site elevations, aperture, cameras and filters. Users can learn the true optimal binning and system F# for best sensitivity as well as discover which manufacturer's camera, OTA or filter will perform best in their specific system.
The included library contains over 139 Cameras and Imager Sensors, 110 OTA's and 70 filters from various manufacturers.
Astrophotography CAD helps users better understand how their Astro-imaging system will perform, what are its limits, and which parameters will enhance the results. These functions include:
– Compare, optimize or design Astro-imaging systems by simulating OTA, Imager and Filter combined performance from 350nm to 1000nm. This is particularly important before significant purchases, such as telescopes and cameras. You will be reasonably assured that the system will really do what you need it to do.
– For those looking to purchase a new camera, OTA, focal reducer or filters, this application will help you make the right decision.
– For those who already have an existing imaging system, this application will help optimize its optical train, and select the correct imaging parameters, such as the sub duration and total exposure length.
– If there is a particular goal in mind, the software will help you determine how long of a total exposure time you need, which filters to use, etc.
– When designing a system from available components, or looking to make an upgrade, this application will predict what can be expected from the finished product – before actually spending the time and money purchasing or making it.
Astrophotography CAD mathematically models a complete system, and performs detailed, spectroscopically granular simulation and analysis. It performs hundreds of thousands of complex calculations for each analysis in order to provide a detailed and accurate picture of systems capabilities.
Astrophotography CAD will run on Windows 7, Windows 8, Windows 10 and Windows 11, on both 32 and 64bit operating systems. It requires .NET Framework 4.7.2 or higher, and minimum display resolution of 1200 x 720 pixels (WXGA). High resolution 4K displays are supported.
You can learn more about Astrophotography CAD here.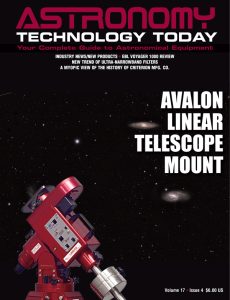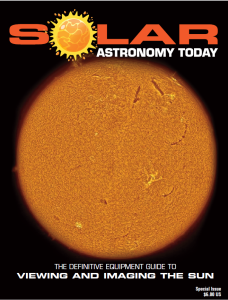 And to make it easier for you to get the most extensive news, articles and reviews that are only available in the magazine pages of Astronomy Technology Today, we are offering a 1-year magazine subscription for only $6! Or, for an even better deal, we are offering 2 years for only $9. Click here to get these deals which only will be available for a very limited time. You can also check out a free sample issue here.
The Sun is more active than it's been in years and if that's not enough, we have the Annular Solar Eclipse on October 14, 2023 and the Total Solar Eclipse on April 8, 2024! If you'd like to learn more about the technology behind solar observing, solar imaging and more, you can check out our free publication, "The Definitive Guide to Viewing and Imaging the Sun". You don't have to sign up or provide any information, simply click here and enjoy reading!