The iOptron HAE69 mount is the latest and largest introduction in the company's HAE Dual AZ/EQ series of strain wave gear mounts adding to the iOptron HAE29 and HAE43. The iOptron HAE69 mount offers a medium payload through its AZ/EQ dual mount head that weighs less than 20lbs and provides a payload capability of 69lbs, without the need for counterweights or shaft.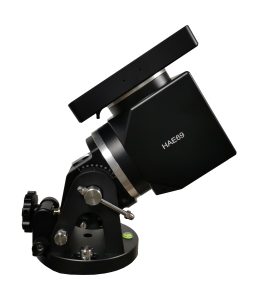 Utilizing state of the art strain wave gear technology for both RA and DEC movement, the iOptron HAE69 mount offers an appealing low weight to high payload efficiency. It features a rugged black anodized all metal CNC machined body and includes features such as an electronic friction break and power down memory which allows the mount to safely stop and resume a GoTo slew or continue tracking even after an abrupt power loss, eliminating the need to realign and start from the beginning.
The iOptron HAE69 mount can be controlled by a computer, either via ASCOM/Commander for a Windows PC or a third-party INDI driver for a MacOS software; a smartphone/tablet via iOptron Commander Lite or an app such SkySafari; or a Raspberry Pi device via INDI driver.
The mount also includes the iOptron Go2Nova 8409 V2 hand controller which utilizes iOptron's high performing computerized control system providing the latest in automated tracking technology.
With the easy-to-use 8409 hand controller and its large 4-line LCD screen, users can easily set up the telescope mount and select where they want to go with the user interface. The control system also allows the user to slew the mount at 9 different drive speeds, keeping the object within the telescope's viewfinder for as long as desired. The hand controller utilizes a USB connection with a computer for firmware upgrade or use with planetarium software. It also has a Wi-Fi adapter for computer/tablet mount control.
The iOptron HAE69 mount is offered in three configurations. It is available with the HAE69 mount head, iOptron 2Nova 8409 V2 Hand Controller and aluminum case. It can also be purchased in a package that adds the iOptron iPolar electronic polar scope.
Finally, the HAE69EC package includes the iPolar and a high precision RA axis encoder that delivers incredible tracking accuracy, enough that many will choose to image "sans" guiding.
The iOptron HAE69 mount features include:
– Advanced strain wave gear system technology
– Payload capacity of 31 kg (69 lbs.) with the mount weight of 8.6 kg (19 lbs., include dovetail saddle)
– PE< ± 15 arcsec
– All metal, CNC machined
– Anodized black exterior finish
– 270 second gear period
– Go2Nova V2 hand controller with ~212,000 object database
– Optional iPolar electronic polar scope package for easy and accurate polar alignment
– High precision encoder (RA) available in HAE69EC model
– Level bubble level indicator
– Cable passthrough ready for customer cable management
– Dual saddle (Vixen and Losmandy-D styles)
– Built in zero position search and locator
– Power down position and location memory
– Integrated ST-4 autoguiding port
– Built-in Wi-Fi (via hand controller)
– USB port for firmware upgrade and computer control
– Aluminum carrying case
– Optional tripod available
– Two-year warranty
The iOptron HAE69 mount specifications include:
– RA gear system: Strain Wave Gear
– DEC gear system: Strain Wave Gear
– Reduction ratio: RA 800:1, DEC 800:1
– Payload w/o counterweight: 69 lbs. (31 kg)
– Payload with counterweight: 79 lbs. (36kg)
– Mount weight: 19 lbs. (8.6 kg) with dovetail saddle
– Period: 270 second
– PEC: Yes, Realtime PEC
– Azimuth adjustment range: 0°~ 90°
– Latitude adjustment range: ± 8°
– Drive motor: Stepper motor
– Tracking: Automatic
– Maximum slew speed: 4.5º/sec
– Power consumption: 0.6A(Tracking), 1.6A(GOTO)
– Power: DC12V-5A (5.5/2.5mm DC plug)
– AC adapter: 100V ~ 240V
– Cable management: Ready for DIY
– Power off brake: Electronic friction brake
– Power-down memory: Yes
– Wi-Fi: Built-in
– Communication port: Yes (Wi-Fi and USB, via HC)
– Autoguide port: Yes (ST-4 compatible)
– Firmware upgrade: Yes
– Mounting base diameter: 152mm
– Counterweight Shaf (Optional)t: SS Φ20X200mm, 3/8″-16 thread
– Counterweight (Optional): 10 lbs. (4.5kg)
– Operating temperature: -20ºC ~ 40ºC (hand controller -10ºC ~ 40ºC)
You can learn more about the iOptron HAE69 mount here.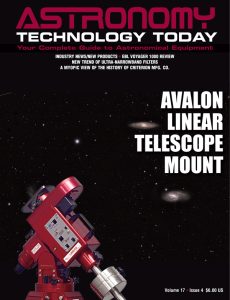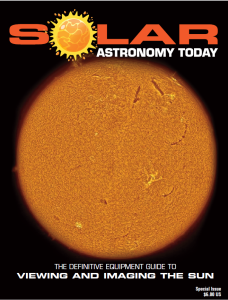 And to make it easier for you to get the most extensive news, articles and reviews that are only available in the magazine pages of Astronomy Technology Today, we are offering a 1-year magazine subscription for only $6! Or, for an even better deal, we are offering 2 years for only $9. Click here to get these deals which only will be available for a very limited time. You can also check out a free sample issue here.
The Sun is more active than it's been in years and if that's not enough, we have the Annular Solar Eclipse on October 14, 2023 and the Total Solar Eclipse on April 8, 2024! If you'd like to learn more about the technology behind solar observing, solar imaging and more, you can check out our free publication, "The Definitive Guide to Viewing and Imaging the Sun". You don't have to sign up or provide any information, simply click here and enjoy reading!