The new Prima Luce Lab EAGLE5 is the company's latest introduction to its popular Eagle advanced computers for telescopes and astrophotography. The EAGLE5 comes in three figurations, the Eagle5 S, Eagle 5 Pro and the Eagle5 XTM.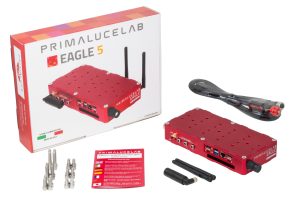 Each version of the Prima Luce Lab EAGLE5 offers a lightweight, compact, all-in-one design with aluminum housing that can be easily installed on your telescope. Each offers all of the advanced features of the previous EAGLE versions such as GPS sensor with high gain antenna to automatically detect your position and time, EYE sensor to monitor sky quality in the area your telescope is pointed, DARK mode to disable all of the LEDs on the EAGLE and much more.
The Eagle5 S offers a fast i3 processor, 8 GB fast DDR4 memory, large and quick Industrial Grade NVMe 250 GB SSD drive. The Eagle 5 Pro offers takes things up a notch with an i5 processor, 16 GB fast DDR4 memory, and Industrial Grade NVMe 500 GB SSD drive. The Eagle5 XTM takes things over the top with a blazing-fast AMD Ryzen 3 5400U processor, 32 GB ultra-fast DDR4 memory, and huge Industrial Grade NVMe 2TB SSD drive.
Each of the EAGLE offerings runs Windows so you can install your preferred Windows software and use the devices you want. The lineup is unique in that each of the EAGLE versions provide different computing power, memory capacity, disk space, advanced features and integrated sensors. This allows you to choose the EAGLE that best fits your application, power requirements and budget.
As the Prima Luce Labs team notes, "In the modern world there are many operative systems that do a great job. But, when it comes to astronomy software and drivers, most of it works on Windows. That's why the EAGLE runs Windows, so you can connect to the EAGLE the devices you like (since manufacturers provide official drivers for Windows 10/11) and install the Windows software you prefer (it has just to be compatible with Windows 10/11): anything you can load on your standard Windows 10/11 computer at home, you can load on the EAGLE. This way you're not just locked into one particular company's hardware and you can easily customize the EAGLE in the way you like. The EAGLE5 offerings use Windows 11 IoT Enterprise license that is lighter-weight and more stable than traditional PCs with Windows 11 Home or other OEM versions that come preinstalled with useless bloatware."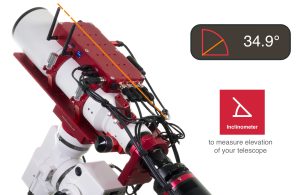 The Prima Luce Lab EAGLE5 series comes with an Inclinometer to measure the inclination of your telescope. The built-in Inclinometer sensor measures the elevation of your telescope with respect to the horizon level, with a resolution of 0.1 degrees (and a measured average error lower than 1 degree). Inclination data is shown in real time in the EAGLE Manager X interface and, since the EAGLE is designed to be installed in parallel to your telescope (elevation is correctly displayed also if the EAGLE is in inverted position, with the power out ports pointing the sky), you can also remotely check if your telescope is pointed at the correct elevation, if your equatorial mount elevation setting is correctly set based on your Latitude, or if your Alt-Az mount home position is correctly set in elevation.
Each EAGLE5 also comes with a unique motion detector to detect unexpected or unwanted motions of your telescope. When recording a sequence, you may have one of your images blurred while the others are sharp: many external factors like wind gusts or cable snags may impact your telescope correct tracking during an acquisition. The motion detector shows in the EAGLE Manager X the unwanted motions without confusing them with mount tracking or GoTo movements. This way, Prima Luce Lab's PLAY software (or third-party software that supports motion detector) can automatically repeat the last acquisition if EAGLE detects an unexpected motion.
As to the EAGLE lineups performance compared to standard minicomputers, the Prima Luce Lab team notes, "EAGLE not only offers exclusive features for advanced astrophotography, but also all the power of a real computer (superior to a Mini PC) to allow you to use any astrophotography software. In order to test its performance, we used the PCMark benchmark and compared EAGLE LE, EAGLE4, EAGLE5 S, EAGLE5 PRO and EAGLE5 XTM with one of the many Mini PCs on the market (where we installed the same EAGLE operating system for a precise results comparison). The EAGLE4/LE offer 32% more performance than a common Mini PC with Intel Celeron N3160 processor, 4GB of RAM and SSD disk; EAGLE5 S still raises the gap by bringing this difference to 183%; EAGLE5 PRO increases even more to +231% and the faster EAGLE5 XTM boosts everything to an incredible +316%!"
Each EAGLE5 comes with special "EAGLE Manager X" software that starts automatically at Windows startup and provides an easy and intuitive interface, allowing you to:
– Enable/Disable every 12V power out port: this way you can keep all your devices connected (for example, mount, camera, filter wheel, etc.) and activate them remotely when you turn on the entire system.
– Check power consumption: it allows you to check how much power every 12V device powered through the EAGLE requires and it shows the total power consumption of your telescope this way providing you the best way to monitor your system power.
– Name power and USB ports: you can rename every port with the name of the connected device, in order to easily control them or to save COM port number associated to a specific device.
– Check for GPS data: elevation, latitude, longitude, date, time and number of connected satellites
– Check for EYE sky quality: select the sensor facing toward the sky and check for sky quality value
– Set the power out voltage of the 3 x 0-12V power out ports: increase or decrease the power to dew heaters connected to EAGLE. Each port shows the current consumption that can also be monitored over time.
– Check for Inclinometer to verify elevation of your telescope in respite to the horizon level.
– Show Motion Detector data and visualize if unwanted motions are recorded.
– Activate DARK mode: this turns off all the LED lights.
– Connect or disconnect devices connected to the A-B-C-D USB 2.0 ports: this feature is convenient in case of temporary crash of an auto-guider or planetary camera, which can then be reset without the need to go to the telescope and disconnect/reconnect a cable.
– Set wireless or wired connectivity: it shows the IP addresses you can use with remote desktop to access your EAGLE in AP mode (use your smartphone, tablet or external computer by connecting directly to EAGLE without the need of a WiFi router) or HOST mode for connecting to your existing network such as your home WiFi, also with a wired connection.
– Set your automatic power routines: you can define port status "After power on" and "Before shut down" for the devices connected to the EAGLE. This way, for example, you can automatically turn on all your devices after you start the EAGLE and turn them all off when you shut down the EAGLE.
– Automatically connect to the optional ECCO controller: if you have the environmental controller, EAGLE Manager X is able to automatically connect at startup and take control of dew heater power based on calculated dew-point.
– Save EAGLE sensors data in log files for later processing: data from various sensors are saved in log files directly on your EAGLE this way you can later download them.
Specifications and features of the Prima Luce Lab EAGLE5 series include: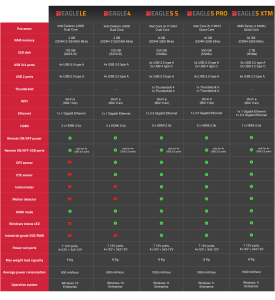 – Windows 11 Enterprise computer lets you install your preferred Windows software and use the devices you want
– Industrial grade SSD disk and RAM module to provide the best reliability also in very low temperatures
– 10 port USB hub with 3x high speed USB 3.2, 2x USB 4 type-C ports (1x Thunderbolt 3 and 1x Thunderbolt 3) plus 5x USB 2.0 ports (4 of them with remote on/off capability)
– 4 x 12V power out ports with remote ON/OFF control to power your mount, camera and other 12V accessories
– 3x variable 3-12V power out ports for dew heaters
– GPS sensor with high gain antenna to detect elevation, latitude, longitude, date and time
– EYE sensor to monitor sky quality in a 5° field of view where the telescope is pointed
– Inclinometer to measure elevation of your telescope
– Motion Detector to detect unexpected or unwanted motions of your telescope caused by high winds, sudden flexures or cable snags.
– DARK mode to turn off all the LED lights
– Powerful and fast WiFi 6 (802.11ax) with dual band (2.4 and 5 GHz) connection
– Power consumption of every device powered through the 12v power OUT ports of the EAGLE
– Power level monitoring provided to 12V power IN port of the EAGLE
– EAGLE Manager X interface to easily control all the EAGLE's features
– PLUS aluminum case, allowing you to easily attach the EAGLE to any telescope by adding rings, bars or clamps
– Weight: EAGLE5 S and Pro 1.25 kg (2.75 lb); EAGLE5 XTM1.38 kg (3 lb).
You can learn more about the Prima Luce Lab EAGLE5 here.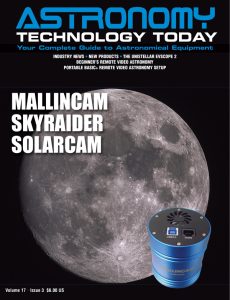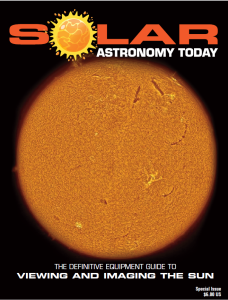 And to make it easier for you to get the most extensive news, articles and reviews that are only available in the magazine pages of Astronomy Technology Today, we are offering a 1-year magazine subscription for only $6! Or, for an even better deal, we are offering 2 years for only $9. Click here to get these deals which only will be available for a very limited time. You can also check out a free sample issue here.
The Sun is more active than it's been in years and if that's not enough, we have the Annular Solar Eclipse on October 14, 2023 and the Total Solar Eclipse on April 8, 2024! If you'd like to learn more about the technology behind solar observing, solar imaging and more, you can check out our free publication, "The Definitive Guide to Viewing and Imaging the Sun". You don't have to sign up or provide any information, simply click here and enjoy reading!