The Astro-Tech AT90CFT F/6 Triplet Apo from Astronomics is a very compact, carbon fiber refractor designed to offer high performance on the go. Measuring only about 18″ long with the focuser and dewshield retracted for storage and travel, it is a very convenient telescope for all situations.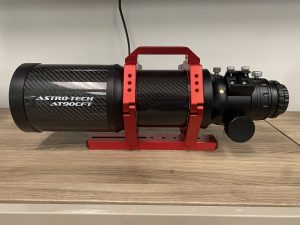 As the Astronomics Team notes, "The AT90CFT is a continuation of the legendary TMB92 and AT92. Thomas laid the foundation for this scope when we had him design his ultimate refractor, the TMB-92 Signature Series. The design sat dormant in our "vault" for many years until we thought it was time to dust it off. We sent the design to Roger Ceragioli to give it a once over and make sure that it was performing as it should with advances in glass and coatings over the last decade. He studied it and made changes to try and get every ounce of performance possible out of 92mm of glass."
They continued, "The AT92 was a great scope, but we ran into an issue getting a dedicated focal reducer made for it. So, we went to the optical designer at the manufacturer that produced the AT92 and started working with the design parameters laid out by Tom and tweaked by Roger. We were able to get fantastic performance, a guaranteed .95 Strehl ratio, and have a dedicated .8x reducer field flattener made for the scope as well. We did have to make the scope an f/6 system in its latest incarnation, however."
The Astro-Tech AT90CFT F/6 Triplet Apo is designed as a grab and go scope for observing and imaging, both for planetary and deep space use. It offers images that show the desirable subtle low-contrast lunar and planetary details which are razor-sharp, with realistic and highly saturated color. These images are free from chromatic aberration, thanks to the ED element in the scope's triplet optics.
The latest antireflection multicoatings and knife-edge internal baffles assure the maximum image contrast possible. Image excellence is limited only by the seeing conditions, not by any aberrations or short-coming in the telescope.
Highlights of the Astro-Tech AT90CFT F/6 Triplet Apo include:
– Apochromatic triplet ED refractor optics: 3.5″ (90mm) aperture, 540mm focal length, f/6 triplet lens. It uses an FCD-100 ED (Extra-low Dispersion) glass center element in combination with two mating elements for sharp images that are high in contrast and free from spurious color (chromatic aberration).
– Multicoated optics: Fully multicoated on all surfaces with the latest antireflection materials for exceptionally high light transmission and excellent contrast.
– OTA Construction: The optical tube is constructed out of black carbon fiber with matte black metal trim and focuser body.
– Internal light baffles: Contrast-enhancing knife-edge light baffles in the optical tube and focuser provide dark sky backgrounds and high terrestrial contrast. In addition, the edges of the objective lens are blackened to eliminate contrast-reducing stray internal reflections.
– Retractable dew shield: The self-storing retractable dew shield/lens shade slows the formation of dew on the lens to extend your undisturbed observing time. It also improves visual and photographic contrast by shielding the lens from off-axis ambient light.
– Dual-speed 2.5″ rotating rack and pinion focuser: The precision-made 2.5″ focuser has dual-speed focusing provided through two coarse focusing knobs. The right knob also has a smaller concentric knob with a 10:1 reduction gear microfine focusing ratio. This provides exceptionally precise image control during very high magnification visual observing, and during critical 35mm or CCD imaging. All focus knobs are ribbed, so they are easy to operate, even while wearing gloves or mittens in cold weather. Multiple internal baffles in the focuser drawtube assure high contrast. The focuser comes standard with a Vixen style finder shoe.
– Compression ring eyepiece holders: The focuser drawtube ends in a 2″ eyepiece holder that uses a non-marring twist lock compression ring to hold a 2″ star diagonal and accessories in place. The compression ring won't scratch the barrel of your star diagonal and accessories as an ordinary thumbscrew can. Also supplied is a 1.25″ twist lock eyepiece holder that slips into the 2″ compression ring holder to let you use a 1.25″ star diagonal or image erecting diagonal. Like the 2″ eyepiece holder on the eyepiece holder rotation mechanism, the 1.25″ adapter also uses a non-marring twist lock compression ring to hold 1.25″ star diagonals and accessories in place.
– Shipping/storage case: The Astro-Tech AT90CFT F/6 Triplet Apo comes standard in a 21″x11″x10″ padded soft case with a carry handle and shoulder strap for transportation and general protection purposes. The soft case has ample padding to protect your scope and has five cutout spaces for various accessories like a diagonal or the optional .8x reducer/field flattener.
– Full Dimensions:  19.5″ long with dew shield extended; 18″ long with dew shield retracted.  The Dew shield diameter is 4.75″ and the tube diameter is 108mm.  The OTA weighs 7.45 pounds weight without rings.
– Other supplied accessories: A slip-on metal dust cap is standard. As well as a set of hinged tube rings with a handle and a Vixen dovetail.  A vixen style finder shoe is installed on the focuser body.
You can learn more about the Astro-Tech AT90CFT F/6 Triplet Apo here.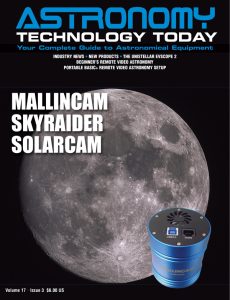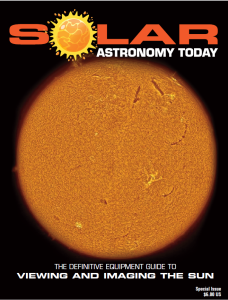 And to make it easier for you to get the most extensive news, articles and reviews that are only available in the magazine pages of Astronomy Technology Today, we are offering a 1-year magazine subscription for only $6! Or, for an even better deal, we are offering 2 years for only $9. Click here to get these deals which only will be available for a very limited time. You can also check out a free sample issue here.
The Sun is more active than it's been in years and if that's not enough, we have the Annular Solar Eclipse on October 14, 2023 and the Total Solar Eclipse on April 8, 2024! If you'd like to learn more about the technology behind solar observing, solar imaging and more, you can check out our free publication, "The Definitive Guide to Viewing and Imaging the Sun". You don't have to sign up or provide any information, simply click here and enjoy reading!