The PlaneWave Delta Rho 500 telescope is designed for ultra-wide field imaging and ease of use in the field. Operating at f/3.03 and 1537 mm focal length, the DeltaRho 500 is a wide field telescope that is sure to revolutionize astrophotography.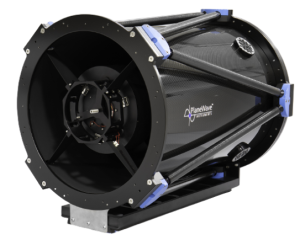 As the PlaneWave team notes, "After successfully introducing the DeltaRho 350, the DeltaRho 500 is now available for transcending the challenges of ultra-wide field imaging. With a primary mirror that is fixed in place, collimation is quickly achieved with a simple adjustment to the tip and tilt of the secondary mirror. With more than twice the light-gathering power of the Delta Rho 350, maximizing the performance of your astrograph has never been easier due to PlaneWave's pursuit of the perfect telescope!"
The PlaneWave Delta Rho 500 is a Cassegrain optical design which means the imaging train is secured at the back of the telescope and does not block the light path compared to prime focus designs, which can limit the ability to operate with filter wheels or large cameras. Since the primary mirror is fixed in place collimation is quickly achieved by adjusting the tip and tilt of the secondary mirror.
As the PlaneWave team also notes, "The DeltaRho 500 provides a perfectly flat field, which ensures stunning clarity from corner-to-corner images without field curvature degradation. With decades of telescope design experience, the DeltaRho 500 offers the simplicity of single-mirror collimation, stray light control of advanced 3D printed baffles, and structural performance created through finite element analysis (FEA). DeltaRho 500 users can experience pinpoint stars edge-to-edge and a 2-degree field of view when using large 16803/4040 (52mm) size camera sensors. This field of view is over twice as large as our CDK 20! This kind of equipment allows users to experience a whole new level that can bring them closer than ever to deep space. The DeltaRho 500 effortlessly allows nothing to stand in between the user and their astroimages."
The PlaneWave Delta Rho 500 offers a carbon fiber tube design which minimizes potential thermal expansion that can cause focus shift as temperature changes during an imaging session. Carbon fiber also reaches ambient temperatures quickly and is extremely lightweight and rigid to help ensure that excellent imaging data is produced.
Along with the included collimation mask, PlaneWave Collimation software allows for quick and easy collimation necessary to maximize the performance of a fast f-ratio optical system. Three fans are strategically placed on the backplate of the optical tube to ventilate through the telescope and by the primary mirror. Four additional fans on the side of the optical tube provide airflow across the primary, bringing thermal equilibrium efficiently to prevent distorted images due to temperature variations. The fans are controlled by a switch on the optical tube or via the PW13 software with the PlaneWave Electronic Focus Accessory (EFA KIT) sold separately.
The PlaneWave Delta Rho 350 optical system specifications include:
– Optical Design: Corrected Cassegrain
– Aperture: 508 mm (20 inch)
– Focal Length: 1537 mm (60.5 inch)
– Focal ratio: f/3.03
– Central Obstruction: 59% by diameter
– Back Focus from Mounting Surface: 9.166 in (232.8 mm) from mounting surface; 7.271 inch (184.7 mm) from lens cell
– Weight: 165 lbs (75 kg)
– OTA Length: 35.1 inch (892 mm)
– Optical Performance: 3.86 micron RMS on-axis, 4.04 micron RMS at 22 mm off-axis, and 6.04 micron RMS at 35 mm off-axis (Spot Diameters)
– Telescope Cage: Carbon fiber truss poles with carbon fiber shroud
– Optimal Field of View: 70mm image circle
Secondary Mirror specifications include:
– Diameter: 190 mm (7.48 inch)
– Material: Fused silica (quartz)
– Shape : Spherical
– Coating: Enhanced aluminum – 96%
Primary Mirror specifications include:
– Optical Diameter: 20 inch (508 mm)
– Outer Diameter: 20.8 inch (528 mm)
– Shape: Prolate ellipsoid
– Material: Fused silica (quartz)
– Coating: Enhanced aluminum – 96%
Secondary Mirror specifications include:
– Diameter: 286 mm (11.26 inch)
– Material: Fused silica (quartz)
– Shape : Spherical
– Coating: Enhanced aluminum – 96%
Lens Group specifications include:
– Diameter: 160 mm (6.3 inch)  Largest Lens
– Number of lenses: Three
– Coating: broadband AR Coatings (less than .5% reflected from 400 to 700nm)
You can learn more about the PlaneWave Delta Rho 350 here.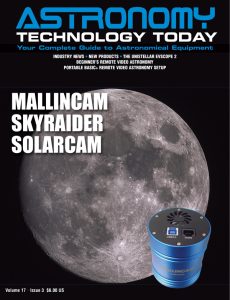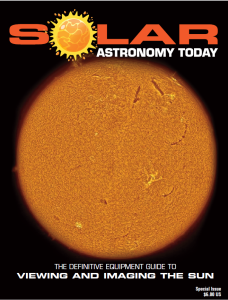 And to make it easier for you to get the most extensive news, articles and reviews that are only available in the magazine pages of Astronomy Technology Today, we are offering a 1-year magazine subscription for only $6! Or, for an even better deal, we are offering 2 years for only $9. Click here to get these deals which only will be available for a very limited time. You can also check out a free sample issue here.
The Sun is more active than it's been in years and if that's not enough, we have the Annular Solar Eclipse on October 14, 2023 and the Total Solar Eclipse on April 8, 2024! If you'd like to learn more about the technology behind solar observing, solar imaging and more, you can check out our free publication, "The Definitive Guide to Viewing and Imaging the Sun". You don't have to sign up or provide any information, simply click here and enjoy reading!