The QHY5III678M/C camera is a new planetary and guiding CMOS camera that has been launched as part the 2nd generation of the QHY5III series. It is the upgraded version of the previous QHY5III178M/C, with excellent near-infrared high sensitivity. Offered in mono and color versions, the camera includes an IR850 filter.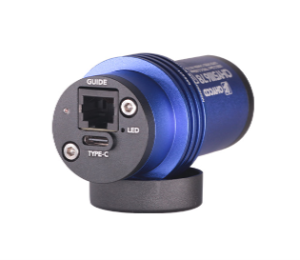 The QHY5III678M/C camera, as well as all of the latest QHY5III series planetary and guiding cameras are equipped with a 512MB DDR3 image buffer which can effectively reduce the pressure on computer data transfer, a great help for planetary photography which often requires writing a large amount of data in a short period of time. The latest QHY5III series also have adopted a new front-end design with better compatibility.
The new QHY5III series cameras also all use the USB3.2 Gen1 Type-C interface. Compared to the USB3.0 Type-B interface used in the previous generation, the Type-C interface has a longer life and is more flexible. The custom interfaces have been replaced with a more universal ST-4 compatible guiding interface.
The QHY5III678M/C camera is equipped with a status indicator at the back of the camera. If the camera experiences an abnormal status, the multi-colored indicator light will help to determine the situation with different colors signifying different conditions. During normal operation this indicator light is off, so there is no need for concern about light contaminating the image.
The QHY5III678M/C camera specifications include:
– CMOS Sensor : Sony IMX678
– Pixel Size: 2.0um*2.0um
– Effective Pixel Area: 3856*2180
– Effective Pixels: 8.4 Mega Pixel
– Fullwell: 9ke-
– Readout Noise: 0.57-3.3e-
– AD Sample Depth: 12-bit (output as 16-bit and 8-bit)
– Built-in Image Buffer: 512MB DDR3 Memory
– ROI Frame Rate: Full Resolution – 43FPS @8BIT, 22FPS @16BIT; 1920 Lines – 85FPS, @8BIT, 43.5FPS @16BIT; 640 Lines – 99FPS @8BIT, 93FPS @16BIT
– Exposure Time Range: 11us-900sec
– Shutter Type: Electric Rolling Shutter
– Computer Interface: USB3.2 Gen1 Type-C
– Guide Port: ST4
– Telescope Interface: 1.25-inch, compatible with CS-port and C-port lenses by replacing the front-end connector (An IR AR glass and an IR850nm filter are included in the standard version.)
– Back Focal Length: 17mm (with adapter); 8±0.5mm (without adapter)
– Weight: 90g
You can learn more about the QHY5III678M/C camera here.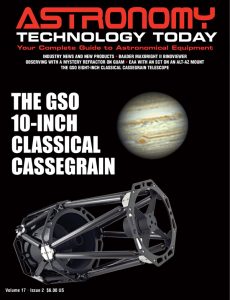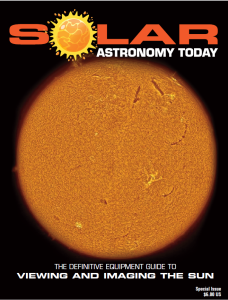 And to make it easier for you to get the most extensive news, articles and reviews that are only available in the magazine pages of Astronomy Technology Today, we are offering a 1-year magazine subscription for only $6! Or, for an even better deal, we are offering 2 years for only $9. Click here to get these deals which only will be available for a very limited time. You can also check out a free sample issue here.
The sun is more active than it has been in years! If you'd like to learn more the technology behind solar observing, solar imaging and more, you can check out our free publication, "The Definitive Guide to Viewing and Imaging the Sun". You don't have to sign up or provide any information, simply click here and enjoy reading!