The Baader UHC-L / Ultra L-Booster Filter offers a classic "all-round anti-light pollution filter" and now in its latest version blocks against the main LED emissions in the blue part of the spectrum and are manufactured with the Baader "CMOS-optimized" coating technology.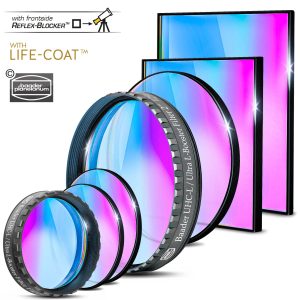 The Baader UHC-L / Ultra L-Booster Filter is a visual and photographic "fog filter" or "broadband dual-band filter", but without any halo phenomena. Due to the extremely deep UV/NIR blocking as well as extreme blocking between the broad transmission bands, it is also an excellent photographic alternative to the well-known luminance (L) UV/IR cut filter in (L)RGB photography
The pass curve corresponds to a wide dual-band filter without distorting the star colors. The two passbands pass all light emitted by the known gas nebulae (the H-alpha and H-beta lines of fluorescent hydrogen as well as the OIII line of oxygen), while blocking atmospherically disturbing scattered light from LED lamps and intensively bluish car headlights as well as scattered light from classic street lamps and the natural glow of the night sky (airglow/skyglow) of the atmosphere.
As the Baader team notes, "The area of ​​application of the Baader UHC-L / Ultra L-Booster Filter is primarily in the visual and photographic observation of emission nebulae (star formation regions, planetary nebulae, supernova remnants). Its use is also interesting for comet observation as it allows the OIII line at 501nm as well as the two C2 lines at 511nm and 514nm to pass, which are characteristic of the gas tail of many comets."
The team also comments, "This UHC-L is the successor to the proven UHC-S filter, which is plano-optically polished with ultra-hard, sputtered, dielectric coating layers. Even a one-hour bath in boiling water cannot harm these filters! They are scratch-resistant and can be cleaned as often as you like. It therefore adds the advantages of Baader CMOS optimization (no annoying halos, blackened filter edges, Baader Life-Coat coating) with a transmission spectrum that is improved and adapted to modern light pollution."
They continued, "It delivers a brighter image than many classic LPR (Light Pollution Rejection) filters and is therefore not only suitable for large, bright instruments, but also for weak telescopes on which a large exit pupil cannot be achieved – this applies to long focal length telescopes as well also small telescopes that only have an eyepiece socket for 1.25″ eyepieces. In contrast to narrow-band dual-band or tri-band filters, the image is also bright enough for high magnifications as stars are less hidden. This is why this one is for deep-sky observers as the UHC-L filters are the perfect visual complement to narrow-band OIII filters."
The Baader UHC-L / Ultra L-Booster Filter is also ideal for photographic use. It not only serves to block terrestrial interfering light sources, but also as a luminance filter (L filter) since it blocks all UV and IR transmission like a UV/IR cut filter. An additional UV/IR blocking filter is therefore not necessary: ​​Cameras without a built-in UV/IR blocking filter deliver significantly sharper images. Both classic photographers and users of EAA and Live Stacking benefit from the increased image sharpness of the stars and the better contrast of the nebulae as well as the transparency for H-alpha.
The new UHC-L / Ultra L booster filter is available in these 7 common sizes: 1¼" / 31mm / 36mm / 2″ / 50.4mm / 50x50mm and 65x65mm.
You can learn more about the Baader UHC-L / Ultra L-Booster Filter here.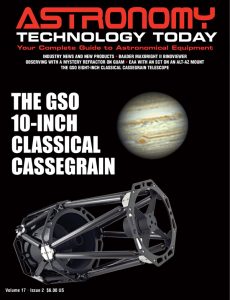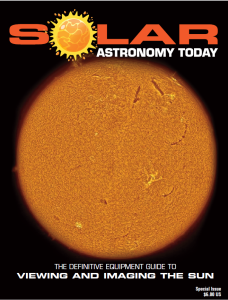 And to make it easier for you to get the most extensive news, articles and reviews that are only available in the magazine pages of Astronomy Technology Today, we are offering a 1-year magazine subscription for only $6! Or, for an even better deal, we are offering 2 years for only $9. Click here to get these deals which only will be available for a very limited time. You can also check out a free sample issue here.
The sun is more active than it has been in years! If you'd like to learn more the technology behind solar observing, solar imaging and more, you can check out our free publication, "The Definitive Guide to Viewing and Imaging the Sun". You don't have to sign up or provide any information, simply click here and enjoy reading!