Joel Short, an astroimaging enthusiast located in Northern Indiana, opened the Buckeyestargazer Shop to make available items he has developed to offer affordable and uncomplicated accessories. As Short comments, "These are simple and practical items that I have found to be essential for amateur astronomers." New products now available from the Buckeyestargazer Shop include: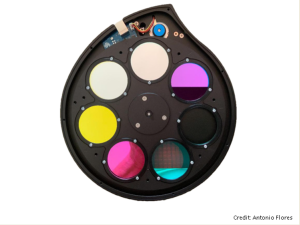 Filter Centering Masks
The Buckeyestargazer Shop Filter Centering Masks will make it easy to center your filters in a filter wheel and will block any potential light leak due to the filters being off-center in the filter disk seat.  Simply place your filter in the filter wheel disk, place the Filter Centering Mask over the filter and fasten with screws. The masks are sold in sets of 7, 8 or 9 depending on the filter mask size and are available for ZWO, QHY, Atik, QSI, Moravian (GXCCD) and Pegasus Indigo filter wheels.
Pegasus Astro Mounting Solutions
For those who would like to mount a Pegasus Pocket Powerbox, Powerbox Micro, Powerbox Advance, Ultimate Powerbox or USB Hub to a Losmandy or Vixen rail, Synta dovetail shoe, this diverse offering of Pegasus Astro mounting solutions make it easy to do so. The system consists of two parts: a bracket for your Pegasus component and one of several different attachments.
Filter Slider Case for Filter Drawers
The Buckeyestargazer Shop Filter Slider Case will protect sliders/filters when not in use and provide quick access for changing out filters in the filter drawer. The sliders are held in place by two strong rare earth magnets, the same as in the filter drawer itself. The case is modular and multiple cases can be attached together via a snap-fit connection to hold multiple sliders in "one" case. They are sold singly or in sets of 3 or 7.
ZWO EAF Mounting Solutions
This bracket allows you to mount a ZWO Electronic Automatic Focuser (EAF) onto your telescope. The system consists of two parts:  a bracket for your telescope and a coupler that attaches the EAF onto the focuser pinion. Connections are held securely with stainless steel M3 set screws.  Where necessary, bracket mounting screws are provided.  The ZWO supplied M4 screws are used to attach the EAF to the bracket.
MiniPC and Raspberry Pi Mounting Solutions
These Buckeyestargazer Shop solutions allow the ability to mount your Raspberry Pi, Intel NUC, Asus or Beelink MiniPC to a tripod leg, Losmandy or Vixen rail, Arca-Swiss saddle or Synta dovetail shoe. These lightweight yet sturdy mounting system consists of two parts: a bracket for your MiniPC/Pi and one of several different attachments.
TriBahtinov Mask for Collimation and Focus
A TriBahtinov mask operates under the same principle as a Bahtinov mask for focusing and adds the ability to collimate scopes with collimatable optics. The mask has a raised center for an easy grip and comes in three sections that snap fit together and can be taken apart for easier storage.
You can learn more about these new Buckeyestargazer Shop accessories here.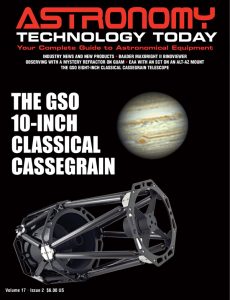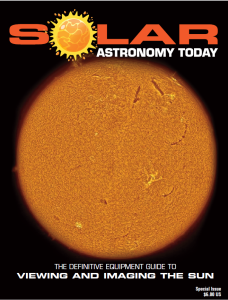 And to make it easier for you to get the most extensive news, articles and reviews that are only available in the magazine pages of Astronomy Technology Today, we are offering a 1-year magazine subscription for only $6! Or, for an even better deal, we are offering 2 years for only $9. Click here to get these deals which only will be available for a very limited time. You can also check out a free sample issue here.
The sun is more active than it has been in years! If you'd like to learn more the technology behind solar observing, solar imaging and more, you can check out our free publication, "The Definitive Guide to Viewing and Imaging the Sun". You don't have to sign up or provide any information, simply click here and enjoy reading!