The new DWARF II smart telescope joins the growing list of robotic telescopes using smart technology. It is a compact smart telescope controlled by your smartphone under the control of the DWARFLAB App and is being offered at an introductory price point of $395US which places it in cost space that is unique for the robotic telescope market.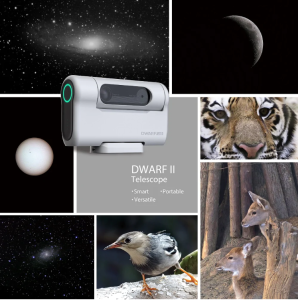 The DWARF II smart telescope is a compact smart telescope with dual camera and AI power. You can take images of deep sky objects, galaxy and nebula as well as utilize it for terrestrial use to record nature videos of birds and animals.
To use the DWARF II you connect your smartphone/tablet with DWARF II via WiFi, then you can wirelessly control DWARF II through DWARFLAB App (available in Android & iOS) and take images and videos. The company will also be providing API and developer documentation, so you can even run your own programs on DWARF II.
The DWARF II smart telescope has two cameras, a wide-angle camera, and a telephoto camera. Through the wide-angle camera, you can take images and videos as a normal camera, or you can preview the field of view. Find the target in the middle of the wide-angle view, then the telephoto camera is aiming your target. And the telephoto image is always at a fixed place (near the center) of the wide-angle image.
The DWARF II automatically track stars and can rotate around the altitude and azimuth along the movement of stars. DWARF II uses a field-rotation-correction algorithm to follow the night sky field rotation and tracks deep-sky objects with long exposure time. Through automatic registration after multiple exposures, the DWARF II stacks the images into a bright and clear image.
Whether using for astronomy or for terrestrial use, the DWARF II's neural network processing unit (NPU) automatically recognizes and tracks the movement of your chosen subject. If the action slows down, you're one click away from zooming-in for a closer look. The panoramic and telephoto lenses are always kept in sync and the app enables one-click switching between them.
The DWARF II smart telescope is available in two packages. The Classic edition includes a DWARF II, a carrying bag, a tripod, a replaceable battery and a 64GB microSD card.  A Deluxe edition includes all that is included in the Classic edition, plus one extra battery, one UHC filter, two ND (solar) filters and a filter adapter. Weighing in at 1.5 kg (3.3 lbs) you can take DWARF II anywhere, in its custom-padded bag or in a backpack.
The process of using the DWARF II smart telescope for astronomy can be broken down in three steps.
–  Automatic calibration: Dwarf II will automatically shoot 3 images of the sky, and based on these 3 images, the current attitude, tilt, and orientation can be calculated.
– GOTO: DWARF II integrates a star atlas, confirming the star to be observed, and it can read the coordinates of the star and point to it directly.
– Tracking: The trajectory of each star in the star atlas is solved in the app, allowing the star to be automatically tracked.
Based on the parameters of the camera, DWARF II is suitable for deep sky objects (DSOs) whose angular size is above 15 arc minutes and the apparent magnitude is below 9, such as NGC2264, NGC5128, NGC6960, NGC1499, M6, M7, M8, M16, M17, M20, M41, M42, M44, M45, M81, M101, and IC4604. As long as the cumulative exposure time is long enough and the sky tracking is stable, the weak signals of the nebula can be accumulated, and a variety of nebulae can be imaged.
The DWARF II smart telescope specifications include:
Lens Parameters
– Aperture Diameter: 24 mm
– Focal Length of the Telephoto: 100 mm
– Equivalent Focal Length: 675mm (Tele), 48mm (Wide)
– F-number: 4.2 (Tele lens), 2.4 (Wide lens)
– Working Distance: 3m~∞
– Field of View: 3° (Tele lens), 50° (Wide lens)
– Digital Resolution: 8 Megapixel (Tele lens), 2 Megapixel (Wide lens)
Hardware Parameters
– CPU: 4-Core Cortex-A7 1.5GHz
– NPU: 2 TOPS NPU
– Sensor: SONY IMX415 Starvis
– Motor: 0.001 °/s~30 °/s
– Visibility Angle: Pitch 240°, rotation 340°
– Battery: Replaceable, 5600mAh
– Mounting Screw Thread: 1/4″
Interactive Parameters
-Connectivity: WiFi & Bluetooth
– Compatible System: iOS & Android
– API: Available
– TF Card Capacity: 512 GB Max
– Waterproof: IP54
– Storage Format: JPG, PNG, RAW
– Operating Temperature: 14~113°F / -10~45°C
You can learn more about the DWARF II smart telescope here.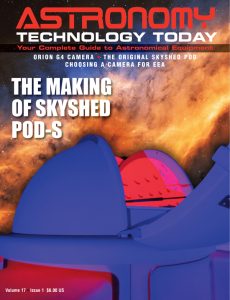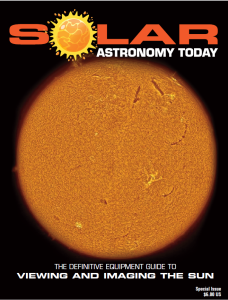 And to make it easier for you to get the most extensive news, articles and reviews that are only available in the magazine pages of Astronomy Technology Today, we are offering a 1-year magazine subscription for only $6! Or, for an even better deal, we are offering 2 years for only $9. Click here to get these deals which only will be available for a very limited time. You can also check out a free sample issue here.
The sun is more active than its been in years and we have the Annular Solar Eclipse on October 14, 2023 and the Total Solar Eclipse on April 8, 2024! If you'd like to learn more about the technology behind solar observing, solar imaging and more, you can check out our free publication, "The Definitive Guide to Viewing and Imaging the Sun". You don't have to sign up or provide any information, simply click here and enjoy reading!