The team behind the Galileoscope telescope project is working with Explore Scientific to create a Galileoscope Solar Kit that includes a safe solar filter and sunshade. The Galileoscope is a wonderful telescope for observing solar eclipses – and for observing sunspots on any sunny day (and the Moon, planets, and other celestial highlights on any clear night).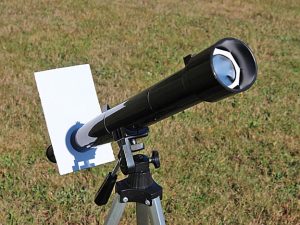 The Galileoscope Solar Kit is perfect for the upcoming 2023 (annular) and 2024 (total) solar eclipses and are also suitable for observing the increase in solar activity over the next few years. Indeed, one of Galileo's accomplishments was observing sunspots on the Sun!
Galileoscopes are 50mm diameter, 500mm focal length refractors with glass doublet objectives, a Plössl 20mm FL eyepiece (giving 25x), and a 2x Barlow lens (giving 50x) that doubles as a Galilean eyepiece, so one can experience what Galileo did when he first turned a telescope to the heavens (although his telescope wasn't optically anywhere as good as a Galileoscope!).
To ensure eye safety, Explore Scientific has developed a safe solar filter – one that meets the transmission requirements of the ISO 12312-2 international safety standard – that fits snugly inside the Galileoscope's dew cap, along with a sunshade that keeps bright sunlight off your face while observing and doubles as a pointing aid so that you can safely aim the Galileoscope at the Sun without risk to your eyes.
In addition to solar-capable Galileoscope kits, Explore Scientific is also offering economical tripods, and, for those who already have or are reselling Galileoscopes, solar filters and sun shades as add-on accessories.
With production lead times, and to ensure delivery for summer and fall 2023, pre-orders are needed. Galileoscopes, tripods, and solar filters/shades are available in case lots of 10 each, with very competitive pricing and substantial volume discounts, as shown here.
– Galileoscope + Solar Filter + Sun Shade: 10-90 units $39 ($390/case); 100-490 units $35 ($350/case); 500+ units $31 ($310/case)
– Tripod: 10-90 units $22.95 ($229.50/case): 100-490 units $18.95 ($189.50/case): 500+ units $16.95 ($169.50/case)
– Solar Filter + Sun Shade: 10-90 units $3.85 ($38.50/case); 100-490 units $3.75 ($37.50/case); 500+ units $3.50 ($35/case)
Also available are eclipse glasses, with bulk discount pricing:
– Eclipse Glasses: $1.29 (up to 500 units); $1.19 up to 3000 units; $1.09 up to 25000; $0.60 for 25000 and up (custom printing available)
Pre-orders require a 50% deposit, the remainder due at time of shipping.
More information about the Galileoscope Solar Kit is available here.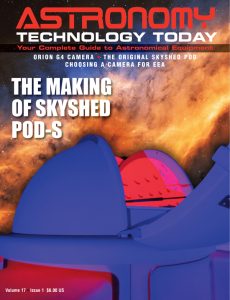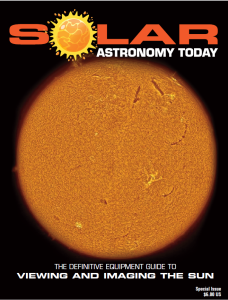 And to make it easier for you to get the most extensive news, articles and reviews that are only available in the magazine pages of Astronomy Technology Today, we are offering a 1-year magazine subscription for only $6! Or, for an even better deal, we are offering 2 years for only $9. Click here to get these deals which only will be available for a very limited time. You can also check out a free sample issue here.
The sun is more active than its been in years and we have the Annular Solar Eclipse on October 14, 2023 and the Total Solar Eclipse on April 8, 2024! If you'd like to learn more about the technology behind solar observing, solar imaging and more, you can check out our free publication, "The Definitive Guide to Viewing and Imaging the Sun". You don't have to sign up or provide any information, simply click here and enjoy reading!