The Fornax 152 Mount is part of the Fornax telescope mount lineup offering a series of German Equatorial mounts for precise positioning and tracking large telescopes. These are available in various payload capacities including 50kg, 100kg, 150 kg and a soon to be introduced 200 kg.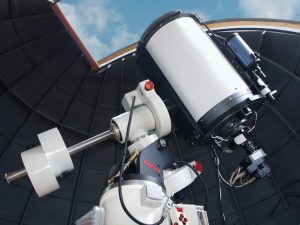 The Fornax 152 Mount is the latest incarnation of the former Fornax 150 mount. The New Fornax 152 comes with strengthened and improved wormbox that makes it an even more precise mount. The new housing of the worm drive is stronger and has an extra unit that holds it in exact position, eliminating any sideways movement that could have occurred in earlier versions when changing direction under heavy load.
The Fornax 152 telescope mount is a heavy-duty German Equatorial mount for precise positioning and tracking extremely large telescopes up to about 100 kg. As the company notes, "Although there are examples of use of even heavier telescopes up to 150 kg, the recommended maximum load is about 100 kg for this telescope mount when used for imaging."
The mechanism of this mount is made of aluminum alloy, cast aluminum, bronze and stainless steel. The worm and the electric motor are located in an enclosed, sealed space (waterproof and dust-proof), making it less sensitive to dust and temperature fluctuations, and is practically maintenance free. The design of the inner drive mechanism results in the mount not suffering from backlash.
Typical periodic error (when not guided) is less than +/- 6 arc seconds (one period on the worm gear is 7.5 minutes long.) When using a TDM (Telescope Drive Master), this can be reduced to below +/-0.5 arc seconds. (TDM is an alternative solution to guiding.) When using auto guiding, the mount reacts immediately, so corrections are very fast and completely free of play.
The Fornax 152 Mount specifications include:
– Mount weight: 70 kg
– Max payload capacity:: 120 kg (counterweight excluded)
– Photographic payload: 90 kg (counterweight excluded)
– Overall dimensions: 320 x 584 x 770 mm
– Shaft diameter: 100mm, anodized aluminum alloy
– Bearings: Diameter 150mm, high precision tapered roller bearings in X layout
– Gear: Diameter 292.5mm, 1.5 module, bronze, 192 teeth
– Worm: Diameter 33mm, multiple thread, grinded, hardened, corrosion proof steel (KO13)
– Periodic Error: < +/- 6 arc seconds
– Periodic Error (with TDM): < +/- 0.5 arc seconds
– Stepper Motors: 200-phase step/rev., 1.7Nm
– Voltage and Current: 24V DC, 3.5A peak power consumption at max. load
– Step-resolution: 0.25 arc seconds/step with MC3 and 0,03 arc seconds / step with OC5
– Maximum speed: 4 degrees/second
– Counterbalance holder tube: Diameter 42.4mm (1.25" KO33 tube) x length 570mm
You can learn more about Fornax 152 Mount here.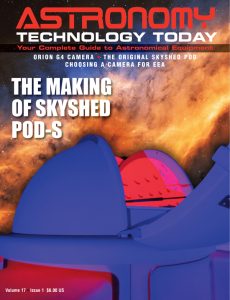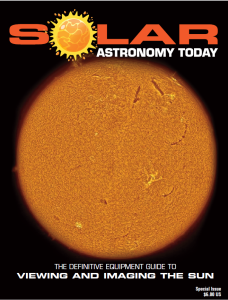 And to make it easier for you to get the most extensive news, articles and reviews that are only available in the magazine pages of Astronomy Technology Today, we are offering a 1-year magazine subscription for only $6! Or, for an even better deal, we are offering 2 years for only $9. Click here to get these deals which only will be available for a very limited time. You can also check out a free sample issue here.
The sun is more active than it has been in years! If you'd like to learn more about the technology behind solar observing, solar imaging and more, you can check out our free publication, "The Definitive Guide to Viewing and Imaging the Sun". You don't have to sign up or provide any information, simply click here and enjoy reading!