The BRESSER Slider Binocular Mount offers a steady image when using large binoculars and high magnification. As many binocular users are aware, when observing for a long time, even medium-weight binoculars weighing 500 grams or more and moderate magnifications of 10x or more can become tiresome to use. High photo tripods are a good alternative but can be limited in terms of the binoculars' movability and the position of the observer.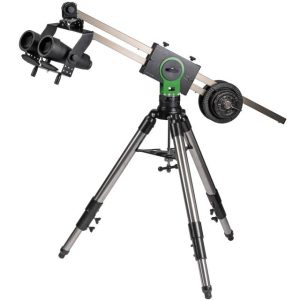 To help make long term observing with large binoculars enjoyable, the BRESSER Slider Binocular Mount offers a variable extension length of the two support rails (crossbars), a cardanic mount head and various adjustable slip couplings so that almost all binocular positions can be selected easily. Afterwards, the binoculars remain in their respective position thanks to the counterweights. During observation, it is usually not necessary to touch the binoculars. The mount provides the option to observe standing up, sitting on a swivel chair or lying down on a mat. For wheelchair users the mount is also an interesting alternative to normal tripod solutions, where usually one tripod leg is always in the way.
The BRESSER Slider Binocular Mount's  patented design, with 2 counter-moving support rails (crossbars), is guided on special linear roller bearings inside the mount head with zero play. This allows the observer to vary the extension length as desired with little muscle power. The sliding resistance can be infinitely adjusted using 2 adjusting screws.
In the middle of the slider mount's center of gravity, there is an axle with adjustable slipping clutch for the tilting and rotating movement. All bearings operate with precision and are backlash-free. For quick levelling, there is a 30 mm fluorescent circular bubble in the base of the mount, which is easy to read even in the dark.
The cardanic mount head works like a ball head. However, it offers a significantly higher load-capacity and more stability. Here, too, the sliding resistance of all moving parts can be adjusted to the user's specific needs.
The mount head offers several mounting holes for mounting a binocular holder via 1/4-inch photo screw or a standard GP prism clamp for mounting small telescopes. In addition, there are various holes on the side cheeks of the mount head for further accessories such as red-light reading lamps, smartphone holders for the use of sky apps or LED viewfinders for quick sighting of celestial objects.
Several counterweights enable the exact balancing of the binoculars or telescope. Two counterweights of each 2.5 kg, 1.25 kg and 0.5 kg are included in the package and can be attached to the rear end of the mount on the mounting bolts on both sides. With the 2 included spring clamps the weights are secured on the bolts.
The BRESSER Slider Mount can be used with binoculars of up to 3.5 kg weight. It is mounted with an optionally available binocular tripod adapter, which is attached to the mount head with a 1/4-inch photo thread screw.
With the availability of an optionally standard GP prism adapter on the mount head, the mount can do double duty providing the ability to use your travel telescope in a completely different way as a high-quality spotting scope for landscape observation.
Also available as an option is a matching corrosion-resistant stainless steel and height-adjustable tripod with double tripod leg clamp. Adjust the extendable tripod to the desired base height and thereby pre-select your favorite observation position. The tripod is equipped with a standard GP mounting head and a central screw with metric M10 threaded shaft.
A tripod adapter for using the optional tripod is already included in the slider mount package. It converts the standard large 3/8-inch photo tripod thread (internal thread) in the base of the slider mount into the metric M10 thread. This means that after removing the adapter, a stable standard photo or video tripod with 3/8-inch mounting screw can also be used.
BRESSER Slider Binocular Mount features include:
– Supports binoculars and telescopes up to 3.5 kg weight
– Adjustable viewing height from approx. 30 cm to 170 cm
– Dimensions when fully assembled: 125 x 35 x 180 cm (when using the BRESSER tripod, item no. 0114310)
– Total weight mount head including accessories: 14.5 kg
– Weight of mount head: 6 kg
– Large 30 mm fluorescent circular bubble in the mounting base
– Mounting holes for further optional accessories available
– Balance weights included: 2x 2.5 kg, 2x 1.25 kg, 2x 0.5 kg
– Adjustable friction clutches on all movable axes
– All surfaces high quality painted, powder coated or anodized
You can learn more about the BRESSER Slider Binocular Mount here.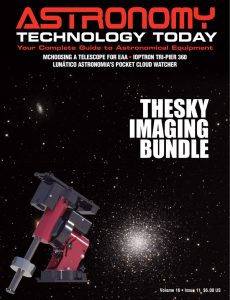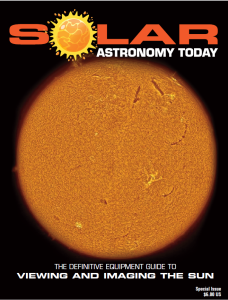 And to make it easier for you to get the most extensive news, articles and reviews that are only available in the magazine pages of Astronomy Technology Today, we are offering a 1-year magazine subscription for only $6! Or, for an even better deal, we are offering 2 years for only $9. Click here to get these deals which only will be available for a very limited time. You can also check out a free sample issue here.
The sun is more active than it has been in years! If you'd like to learn more about the technology behind solar observing, solar imaging and more, you can check out our free publication, "The Definitive Guide to Viewing and Imaging the Sun". You don't have to sign up or provide any information, simply click here and enjoy reading!