HSpectralyzer is a new software program developed to analyze star spectra acquired by spectrographs using transmission or reflective gratings. HSpectralyzer is a free software to help make the fascinating hobby of astronomy and its application in citizen science more accessible.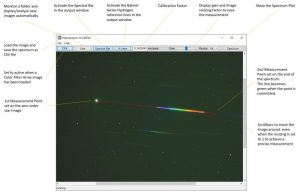 As the publisher notes, "Although there are great software solutions like VSpec, RSpec or ISIS available, the idea of HSpectralyzer is to offer an easy but flexible process to achieve precise and reliable measurements fast."
HSpectralyzer features include:
– Support of Color Filter Array (CFA) as well as mono camera images of the formats FITS, TIF, PNG and JPG
– Live function to monitor a folder and automatically analyze new images to support for example the focusing process
– Save the calibrated spectra as CSV as well as spectral plot images
– Fast calibration on the H-Beta absorption line (RIGHT double mouse click)
– Balmer Series Hydrogen reference lines to verify the calibration
– Display gain and resizing to allow the precise selection of the star and spectrum
– Various functions to zoom, move and save the spectral plots and to measure the wavelength of spectral features
Examples of what can be measured and analyzed with HSpectralyzer include:
– Identify different star types (e.g. Wolf-Rayet stars or even our own sun)
– Supernova and Nova spectra
– Observe the variations in star spectra to provide data to the science community (citizen science)
– Detect the emission lines of nebula
– Analyze the atmosphere of the gas giants like Uranus and Neptune
– Detect the red shift of distant objects like Quasars
You can learn more about HSpectralyzer here.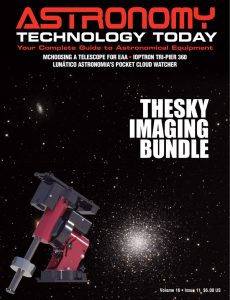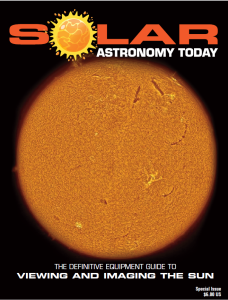 And to make it easier for you to get the most extensive news, articles and reviews that are only available in the magazine pages of Astronomy Technology Today, we are offering a 1-year magazine subscription for only $6! Or, for an even better deal, we are offering 2 years for only $9. Click here to get these deals which only will be available for a very limited time. You can also check out a free sample issue here.
The sun is more active than it has been in years! If you'd like to learn more the technology behind solar observing, solar imaging and more, you can check out our free publication, "The Definitive Guide to Viewing and Imaging the Sun". You don't have to sign up or provide any information, simply click here and enjoy reading!