The AstroShader app has been released under beta. It was created as a specific iOS app for end-to-end imaging using the iPhone exclusively for image capturing, stacking and editing. The goals include making it easier to take longer captures and stack images on mobile without using a laptop/desktop and offer mobile friendly tools to edit as high-quality images.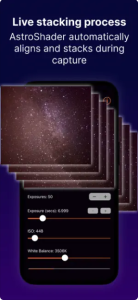 As the publisher notes, "AstroShader is aimed at anyone but more towards beginners looking to start imaging using their phone or people out travelling/trekking where you can't take loads of kit. Also, to give iPhone users more options, as there are some great images coming out of the newer Pixels, Samsungs and Xiaomis these days."
AstroShader functions through its astrophotography workflows by aligning and stacking live during the image capture process. To take an image follow these steps:
– Use a stand or tripod to keep the phone steady.
– Zoom in to the intended target and set focus manually.
– Set the exposure time, ISO and white balance.
– Set the number of exposures to be automatically aligned and stacked.
– After the image capture, images can be saved and edited including as 16bit TIFF.
– Images can also be opened directly to use the edit tools in AstroShader – rather following a new image capture.
The publisher also notes, "The native iPhone exposure range is extended beyond its max (if needed) by stacking raw sensor data without alignment. Per exposure the image is debayered and then aligned and stacked with the next image. This is only possible due to modern iPhone GPU processing capabilities and is done to save disc space. Each tiff is ~95Mb. e.g. per imaging run of say 150 images would otherwise take up 14Gb if saved and stacked from disc. The downside is you lose the subs data, I guess it's just a different "mobile" approach to AP. The data is saved as a 16bit tiff by default, this may not work with the photos app. But in AstroShader you can open 16bit images to edit. With the edit tools I tried to offer more than the photos app, so I added curves, improved black point and a sharpness stacking tool (with radius and intensity controls). You can also choose png, tiff or heif save format."
Those using this beta version are encouraged to report bugs, UX improvements or major feature requests. You can find the AstroShader App in the app store here.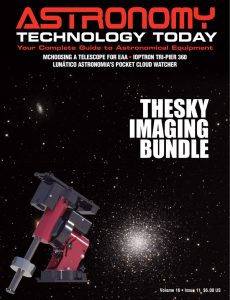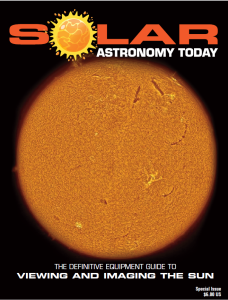 And to make it easier for you to get the most extensive news, articles and reviews that are only available in the magazine pages of Astronomy Technology Today, we are offering a 1-year magazine subscription for only $6! Or, for an even better deal, we are offering 2 years for only $9. Click here to get these deals which only will be available for a very limited time. You can also check out a free sample issue here.
The sun is more active than it has been in years! If you'd like to learn more the technology behind solar observing, solar imaging and more, you can check out our free publication, "The Definitive Guide to Viewing and Imaging the Sun". You don't have to sign up or provide any information, simply click here and enjoy reading!