With the SkyShed POD-S, SkyShed Observatories celebrates its 20th Anniversary announcing a groundbreaking new line of SkyShed POD observatory models and variations of which the highlight is the POD-S, an all-new manual, motorized, ASCOM, and remote control model.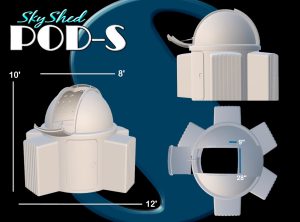 The SkyShed POD-S is an 8 foot diameter slotted dome, which can be motorized with SkyShed's new "industrial strength" ASCOM control system for motorized/remote operation that is "plug-and-play". Or if you so choose, you can operate manually by-hand if you're inside your POD-S. There is also a complete motorized/ remote operation upgrade path for existing SkyShed POD owners as well.
Just as with POD and POD MAX, the SkyShed POD-S is the only doubled-walled observatories on the market. Made from the same tough material (LLDPE) as SkyShed POD and POD MAX. And, with up to 70% thicker/heavier material than SkyShed POD, the POD-S can last for decades with a minimal amount of care.
The POD-S is designed from the ground up to be operated manually or on-site via the 24V motor/control system, with hand-controller or computer. The POD-S can also be operated remotely via LAN/Internet – PC, Linux, and as well as with popular ASCOM dome control software.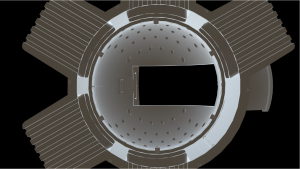 The industrial strength direct shaft drives offers up to 15 degrees per second rotation speed. Like the POD, heavy tong-style steel dome brackets retain the dome in high winds. And not only is the POD-S dome double walled, but the strong, thick slot covers have double weather stops at the ends, are arched (for snow loading, water run off), and tile downward. There is only one oversized lap-join between the two dome halves with no vertical facing bolts thru the dome meaning the heaviest rain can't get through.
The SkyShed POD-S offers new all black, hyper tough, ball bearing wall-wheels which have been tested to perform in temps from -40F to 230 F. A 50% thicker, stainless steel dome flange track vs POD's galvanized steel track is also now included.
The POD-S has the same footprint as original the POD clamshell. This means you now have 4 options to choose from – original POD wall/bays or new taller wall/bays and original clamshell style dome. Or new slot style dome with or without motor control – all with the versatility to give you the option to mix and match.
Existing POD owners can add the POD-S Dome and motor system to their existing POD wall and bays. Or add the new taller wall panels, door, and bays to an existing POD Dome. Additionally, existing POD owners who would like to move to the new taller wall, can add the new SkyShed Pier Base Extension to raise your scope along with the wall height. It offers a simple bolt on design using your existing SkyShed Pier bolt pattern.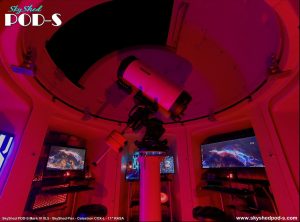 Due to the new taller wall, doorway, bays, and new dome style, there is 111 cubic feet more room in a POD-S XL5, with tall wall/bays vs. original POD XL5 with original wall/bays. You can choose between zero POD-S Bay panels (5 Wall panels and one Door panel), or 1 – 5 Original Height POD-S Bays (Mark III), or 1 – 5 Taller POD-S Bays (Mark IV), which replace the wall panels.
The POD-S is available in 7 colors – Lunar Gray, Discovery White, Midnight Gray, Cobalt Blue, Hunter Green, Forest Green and Desert Tan. The dome and wall can be different colors as well. For instance a Discovery White Dome on a Desert Tan Wall/Bays. And the unique debossed circles in the dome and wall panels add strength as well as a distinctive look.
You can learn more about the SkyShed POD-S here.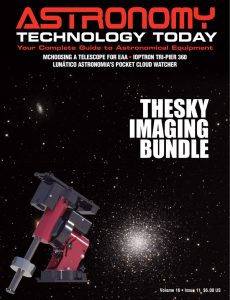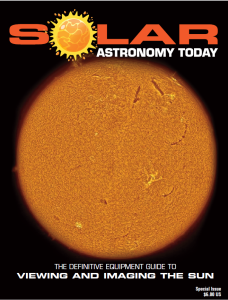 And to make it easier for you to get the most extensive news, articles and reviews that are only available in the magazine pages of Astronomy Technology Today, we are offering a 1-year magazine subscription for only $6! Or, for an even better deal, we are offering 2 years for only $9. Click here to get these deals which only will be available for a very limited time. You can also check out a free sample issue here.
The sun is more active than it has been in years! If you'd like to learn more the technology behind solar observing, solar imaging and more, you can check out our free publication, "The Definitive Guide to Viewing and Imaging the Sun". You don't have to sign up or provide any information, simply click here and enjoy reading!