With the Orion EQ-26 Motorized Equatorial Telescope Mount and Tripod you can upgrade your equatorial mount to one that is fully motorized for tracking, slewing, and precision centering of celestial objects you want to view. The Orion EQ-26 Motorized Equatorial Mount and Tripod supports up to 26 lbs. of telescope payload so it's ideal for exploring the heavens with a medium-sized reflector, refractor, or Cassegrain optical tube.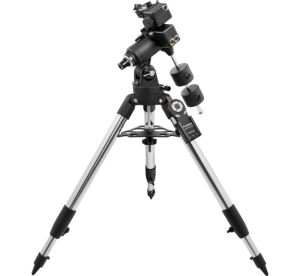 Integrated dual stepper motors allow sidereal-rate tracking as well as quiet slewing up to 800x sidereal and slow-speed, precision centering of objects in your telescope's field of view. Electronic control of the mount is conducted with the included dual-axis hand controller. It features R.A. and Dec. directional buttons and slew speed adjustment buttons, plus a North or South hemisphere switch. The mount requires an external 12-volt, 5-amp power. A DC cigarette-lighter style cable is provided to connect the mount (via the hand controller) to the power supply.
The Orion EQ-26 Motorized Equatorial Mount and Tripod has a Vixen-style dovetail saddle that allows quick attachment and removal of optical tubes equipped with a Vixen-style dovetail mounting bar. Dual setting circles let you home in on celestial objects by their celestial coordinates. This sturdy mount is supported by a stainless steel, extendable tripod with 1.75″ diameter tube legs and a cast-metal spreader which doubles as an accessory tray.
To aid in precision polar alignment, the EQ-26 has a built-in polar scope. The polar scope's reticle can be used to polar align in both the Northern and Southern hemispheres. The mount's azimuth and latitude adjustment knobs also help with fine positioning for polar alignment.
The sturdy EQ-26 Motorized Equatorial Mount and Tripod includes two 5.75-lb. counterweights and a beefy 20mm-diameter counterweight shaft. Weight of the mount and tripod without the counterweights is 19.5 lbs. Saddle height range is 36″ (legs retracted) to 49″ (legs extended).
The Orion EQ-26 Motorized Equatorial Mount and Tripod specifications include:
– Weight rating: 26 lbs.
– Dovetail bar system: Yes
– Motor drive compatibility: Clock drive included
– Alignment procedure: Manual polar alignment with built-in polar scope
– Tracking rates: Sidereal
– Motor speeds: Sidereal to 800x sidereal
– Motor type: Microstep driven stepper motors
– Power requirement: 12-volt DC – 5A (tip positive)
– Setting circles: Yes
– Polar-axis scope: Included
– Counterweights: Two 5.5 lb.
– Tripod material: Steel
– Tripod leg diameter: 1.75 in.
– Counterweight bar length: 13 in.
– Diameter of counterweight shaft: 20mm
– Height range of mount: 36" – 49"
– Weight, mount/tripod: 19.5 lbs.
– Weight, fully assembled: 31.0 lbs.
– Additional included accessories: Dual-axis hand controller, DC cigarette-lighter style power cable, hand controller holster
– Other features: Vixen-style dovetail saddle, spreader brace/accessory tray, bubble level
You can learn more about the Orion EQ-26 Motorized Equatorial Mount and Tripod here.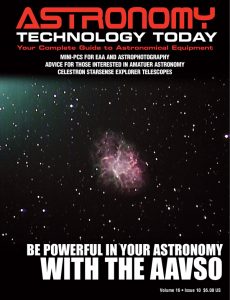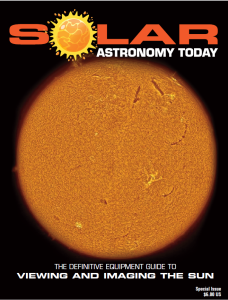 And to make it easier for you to get the most extensive news, articles and reviews that are only available in the magazine pages of Astronomy Technology Today, we are offering a 1-year magazine subscription for only $6! Or, for an even better deal, we are offering 2 years for only $9. Click here to get these deals which only will be available for a very limited time. You can also check out a free sample issue here.
The sun is more active than it has been in years! If you'd like to learn more the technology behind solar observing, solar imaging and more, you can check out our free publication, "The Definitive Guide to Viewing and Imaging the Sun". You don't have to sign up or provide any information, simply click here and enjoy reading!