Galactic Stone & Ironwork has announced that it has a large supply of meteorites available for the holiday season. As owner Mike Gilmer notes, "This is the largest offering of new specimens that I have offered in many years which has meteorites, fossils, minerals, and everything in between. However, despite the dinosaur teeth and fulgurites, the focus of this mass offering is METEORITES."
He continued, "I have several new meteorites that I have never previously offered, including witnessed falls, rare types and obscure localities. There is also a big batch of premium-grade unclassified Saharan meteorites."
Here is a rundown of some of the available offerings:
1) Premium uNWA meteorites: Galactic Stone & Ironwork's has over a Kilo(!) of UNWA (Unclassified Stone Meteorites) that are much higher quality than what is typically offered on the market today. These have fresh black crust, aerodynamic shapes and other aesthetic features.
2) Junction City Georgia meteorites: Junction City Georgia is the latest recovered meteorite fall on Earth. It fell on Sept. 26, 2022. As Gilmer notes, "It's amazing to think that this rock was zipping through space just a few weeks ago. I acquired a half-gram of small fragments that I have made into several micromount specimens. If you want the newest meteorite on Earth for less than the price of a fast food meal, now is your chance."
3) Lunar Slices: There are nice examples of the NWA 11273 lunar meteorite. These are professionally prepared thin-slices with a lot of surface area for the weight. They show a busy matrix of clasts that look amazing under a microscope.
4) Gao Guenie meteorites: There are three examples available of this classic meteorite. Two are large with nice aerodynamic shapes and one is a less common fresh example with black crust.
5) Tsarev meteorites: There are two large uncut fragments available of this Russian meteorite find. As Gilmer comments, "These are the biggest pieces of this locality that I have ever seen or offered. There is a lot of Tsarev in museum collections, but you rarely see big chunks like this on the private collector market."
6) Ghadamis meteorites: These are from a recent Libyan fall with jet black fusion crust and pristine grey matrix. As Gilmer notes, "Due to the chaotic situation on the ground in Libya, this one was classified as HaH 346 and cataloged as a find, although it is definitely a fall."
7) Sidi el Habib meteorites: This is another recent fall that as ultimately classified as a find. What makes this meteorite interesting is the presence of salt crystals. It is one of only three meteorites known to contain halide crystals.
8) Henbury impactites: The impactites are quite rare. As Gilmer notes, "I was lucky to score three of them. I kept one for my own collection and I am making two available for purchase."
9) Several other new localities and types: NWA 14420 (CVox3), NWA 5415 (How/Meso), NWA 13758 (Rumuruti), NWA 14930 (IMB), Sericho (rare etched siderite).
10) Micromounts and displays: Micromounts and displays are available including Murchison, Smokey Spring, and Berduc.
In addition to meteorites Galactic Stone & Ironwork offers rocks, minerals, crystals, gemstones, and semi-precious stones; fossil flora, fauna, and amber specimens; exotic natural materials and artifacts; and Genuine Trinitite (also known as atomsite, alamagordo glass, or atom bomb glass).
So, if you are interested in meteorites for holiday gifts you can check them all out here.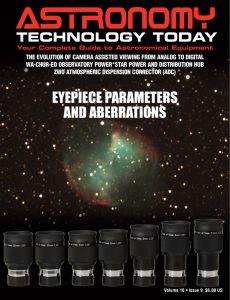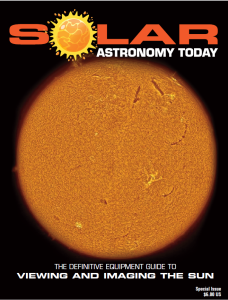 And to make it easier for you to get the most extensive news, articles and reviews that are only available in the magazine pages of Astronomy Technology Today, we are offering a 1-year magazine subscription for only $6! Or, for an even better deal, we are offering 2 years for only $9. Click here to get these deals which only will be available for a very limited time. You can also check out a free sample issue here.
The sun is more active than it has been in years! If you'd like to learn more the technology behind solar observing, solar imaging and more, you can check out our free publication, "The Definitive Guide to Viewing and Imaging the Sun". You don't have to sign up or provide any information, simply click here and enjoy reading!