Luminos 9 app updates have been announced by the app's publisher. This update adds numerous cross-references to the deep space database, improves Meade and Astro-Physics mount coordinate update rates, adds 60 new surface features, has updated predictions for Jupiter's Great Red Spot, adds Apple Watch Ultra support, and fixes bugs.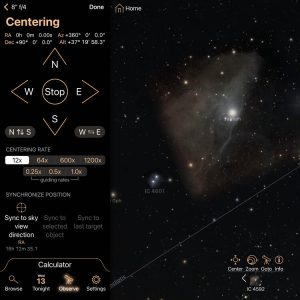 Earlier this year the publisher announced that support of the app will be discontinued in January 2023 as the company focuses on Luminos Pro. The Luminos 9 update to 9.11 is part of the company's plan to update the app through the end of this year, including ensuring that it's compatible with iOS 16. Compatibility with iOS 17 and beyond is not guaranteed, but Luminos 9 is likely to continue working with future iOS updates.
Here is the complete list of changes for Luminos 9 app updates:
– Feature – Added numerous deep space cross-references including ESO, LBN, LDN, Collinder, Melotte, Trumpler, King, Cederblad, Gum, PN, PK, Stock, vdBH, Markarian Galaxies, Markarian Clusters, UGC, MCG, and Harvard (note that this adds cross references for existing objects but does not add new objects to the database).
– Feature – Meade and Astro-Physics mounts update their coordinates much faster by computing the non-native coordinates (ie, az and alt on an eq mount) instead of fetching them from the mount.
– Feature – Added 60 new surface feature names for features on The Moon, Mercury, Mars, Pluto, Europa, and Titan.
– Feature – Adjusted Jupiter Great Red Spot predictions based on current observations.
– Feature – Added support for Apple Watch Ultra.
– Fixed – The LX200 Compatible telescope protocol slews reliably.
Telescope users moving from Luminos 9 to Luminos Pro will appreciate the telescope control and equipment management. They can connect to many brands of computer-controlled telescopes for easy pointing directly from Luminos Pro and use the equipment calculator to help choose optimal combinations for your observations. Select a camera and use an accurately-scaled overlay on the sky view to calculate the ideal centering and rotation for framing your astrophotography targets.
Luminos Pro also provides an excellent educational experience as it allows users to travel in 3D to see stars in an alien sky, then experience the scale of the space with a seamless 3D flight back home. Luminos Pro makes it fun to explore the planets and moons of the solar system with 100 megapixel maps and complete surface feature databases from the USGS. Users can also explore exoplanets and their star systems, or ride along with a spacecraft like Voyager 1 throughout its journey, or see what the Pleiades looks like when you spin it around in 3D.
Luminos Pro is offered with three subscription options. All subscriptions start with a free month and can be cancelled at any time, even during the free month.
You can learn more about the Luminos 9 app updates here.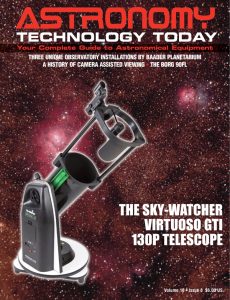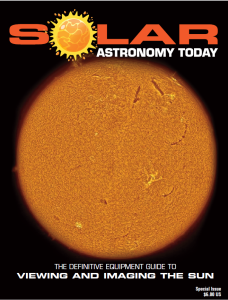 And to make it easier for you to get the most extensive news, articles and reviews that are only available in the magazine pages of Astronomy Technology Today, we are offering a 1-year magazine subscription for only $6! Or, for an even better deal, we are offering 2 years for only $9. Click here to get these deals which only will be available for a very limited time. You can also check out a free sample issue here.
The sun is more active than it has been in years! If you'd like to learn more the technology behind solar observing, solar imaging and more, you can check out our free publication, "The Definitive Guide to Viewing and Imaging the Sun". You don't have to sign up or provide any information, simply click here and enjoy reading!