Based on an innovative optical design, the Long Perng Linear Binoviewer delivers superior optical performance and a comfortable viewing experience. Unlike some other binoviewers, they are parfocal and add no extra optical path length, which means no extra focuser 'in travel' is needed when using them in your telescope.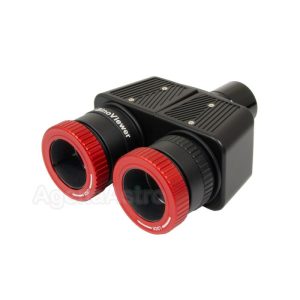 They work with virtually any telescope type, even Newtonians and fast refractors that often have restricted back focus capabilities. And they operate without the need for a Barlow lens or glass path corrector, which means you can enjoy low-power and relatively wide-field binoviewing with 1.25" eyepieces.
Nearly all commercial binoviewers use prisms to split the light path in two, but these Long Perng binoviewers use a knife-edge beam-splitting mirror with a >99% reflective dielectric coating to reduce aberrations and field curvature and improve contrast compared to traditional binoviewers. The device also uses seven lenses in five groups in each optical path which introduces minimal false color and preserves image sharpness. This design also helps ensure matched images for each eye to minimize eye strain while observing.
Rather than a "folding" housing typical of most binos, the Long Perng Linear Binoviewer features a sliding "linear" housing to let you easily match the eyepiece spacing to an interpupillary distance (IPD) between 58mm and 74mm. This design makes it less prone to miscollimation while adjusting the IPD. The housing also uses an engraved scale to help you repeatably set it to the right IPD position.
This binoviewer also includes 1.25" eyepiece holders that are self-centering with twist-tightened collars. The right eyepiece holder has a helical diopter adjustment to help ensure both eyepieces come to focus.
The CNC-machined anodized housing is designed to make it easy to handle without slippage, even when wearing gloves. While compact in size with dimensions of 127mm x 105mm x 50mm, the device packs some heft and weighs in at about 1.57 lbs (716g) without eyepieces, so users must use diagonals and focusers that can support it.
The 1.25" barrel of the binoviewer is threaded for M28.6×0.6 filters such as those sold by Orion – in most cases, they should be compatible with standard 1.25" filter threads from other manufacturers but this cannot be guaranteed. The barrel also includes a taper to reduce the chance of the binoviewer slipping from the diagonal or focuser.
The Long Perng Linear Binoviewer works with nearly any pair of matched 1.25" eyepieces. However, the field stop of these binoviewers is about 17mm, smaller than the 22mm of many traditional small binoviewers. That means wide-field eyepieces with a field stop greater than about 17mm will experience some vignetting. As a rule of thumb, vignetting occurs in eyepieces for which the focal length multiplied by the apparent field of view (AFOV) is greater than 1,000. For example, a pair of 20mm Plossl eyepieces with a 50-degree AFOV will work fine with these binoviewers (50×20=1000). But a pair of 24mm eyepieces with a 68-degree AFOV (24×68=1632) will experience substantial vignetting.
While these binoviewers do not need a Barlow or glass path corrector, they can be used with Barlows or Powermates for high-magnification observations. The manufacturer suggests a pair of medium focal-length eyepieces and a Barlow will deliver a better viewing experience than very short focal length eyepieces without a Barlow.
When used 'straight though' with any telescope without a diagonal, these Long Perng binoviewers deliver an erect image, an ideal feature for terrestrial observations.
When used in a refractor or Schmidt-Cassegrain or Maksutov-Cassegrain with a star diagonal or many types of 'correct image' diagonals, the Long Perng Linear Binoviewer delivers an inverted image which is not a problem for astronomical viewing. For terrestrial viewing where image orientation is critical, the binoviewer must be used with an erecting pentaprism diagonal to render an erect image.
You can learn more about the Long Perng Linear Binoviewer here.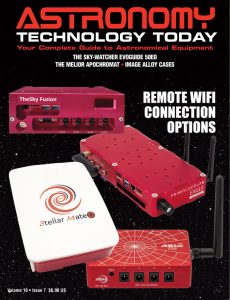 And to make it easier for you to get the most extensive news, articles and reviews that are only available in the magazine pages of Astronomy Technology Today, we are offering a 1 year magazine subscription for only $6! Or, for an even better deal, we are offering 2 years for only $9. Click here to get these deals which only will be available for a very limited time. You can also check out a free sample issue here.