The PlaneWave Delta Rho 350 f/3 telescope was introduced last year and is designed for wide field imaging and ease of use in the field. Operating at f/3 and 1050 mm focal length, the DeltaRho is a wide field telescope that is sure to revolutionize your astrophotography.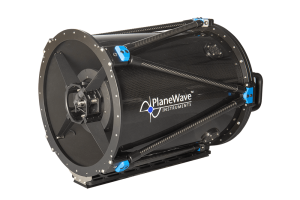 The DeltaRho 350 is a Cassegrain optical design which means the imaging train is secured at the back of the telescope and does not block the light path compared to prime focus designs, which can limit the ability to operate with filter wheels or large cameras. Since the primary mirror is fixed in place collimation is quickly achieved by adjusted the tip and tilt of the secondary mirror.
The DeltaRho 350 provides a perfectly flat field so your astrophotographs will have stunning clarity from corner to corner of the image without field curvature degrading the photos. Offering the simplicity of single-mirror collimation, the stray light control of advanced baffles, structural performance created through finite element analysis (FEA), and decades of telescope design experience, the DeltaRho 350 is an exceptional diffraction-limited telescope.
DeltaRho 350 users can experience pinpoint stars edge-to-edge and a 170 x 170 arcminute field of view when using large 16803/4040 size camera sensors. This field of view is nearly 3 times as large as the Planewave CDK14.
The PlaneWave Delta Rho 350 optical system specifications include:
– Optical Design: Corrected Dall-Kirkham (CDK)
– Aperture: 350 mm
– Focal Length: 1050 mm (41.34 inch)
– Focal ratio: f/3
– Central Obstruction: 56 % by diameter
– Back Focus from Mounting Surface: 5.651 inch (143.535 mm). This distance includes refraction from filters.
– Weight: 46 lbs (21 kg)
– OTA Length: 23 inch (584 mm)
– Optical Performance: 4.9 micron RMS on-axis, 6.2 micron RMS at 23 mm off-axis, and 7.6 micron RMS at 30 mm off-axis
– Telescope Cage: Carbon fiber truss poles with carbon fiber shroud
– Optimal Field of View: 60mm image circle
Secondary Mirror specifications include:
– Diameter: 190 mm (7.48 inch)
– Material: Fused silica (quartz)
– Shape : Spherical
– Coating: Enhanced aluminum – 96%
Primary Mirror specifications include:
– Optical Diameter: 13.78 inches (350mm)
– Outer Diameter: 14.5 inches (468.3mm)
– Shape: Prolate ellipsoid
– Material: Fused silica (quartz)
– Coating: Enhanced aluminum – 96%
Lens Group specifications include:
– Diameter: 110 mm (4.33 inch)
– Number of lenses: Three
– Coating: broadband AR Coatings (less than .5% reflected from 400 to 700nm)
The PlaneWave Delta Rho 350 standard features include:
– Corrected Cassegrain: The corrected design yields a flat field free from off-axis astigmatism, coma, and field curvature.
– Carbon Fiber Truss Design: Minimizes thermal expansion which causes focus shift with changes in temperature.
– Dovetail Expansion Joint: Allows for the difference in thermal expansion between carbon fiber and aluminum. The expansion joint allows the aluminum dovetail expand and contract without stressing the carbon fiber lower truss
– Cooling Fans: Three cooling fans blow air inside the back of the telescope. This helps the telescope to reach thermal equilibrium quickly. The fans are controlled by a computer if the optional Electronic Focus Accessory (EFA Kit) is purchased.
– Delta-T Ready: For added dew prevention, the DR350 is internally wired with polyimide film heater pads and temperature sensor, ready to be controlled with the optional Delta-T controller.
You can learn more about the PlaneWave Delta Rho 350 here.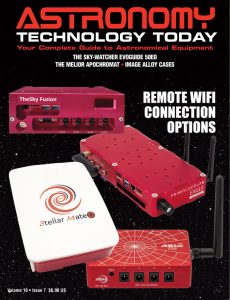 And to make it easier for you to get the most extensive news, articles and reviews that are only available in the magazine pages of Astronomy Technology Today, we are offering a 1 year magazine subscription for only $6! Or, for an even better deal, we are offering 2 years for only $9. Click here to get these deals which only will be available for a very limited time. You can also check out a free sample issue here.