The next Issue of Astronomy Technology Today is now available. You can find the issue here.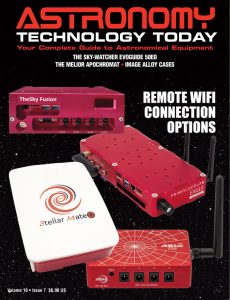 In this issue Curtis Macchioni discusses remote Wi-Fi connection options for the field; Dr. James R. Dire test drives the Sky-Watcher Evoguide 50ED for wide field deep space imaging; Peter Crake offers a guide to designing and organizing custom telescope cases; Joseph Bietry provides an overview of his Melior Apochromat telescope optical design plus industry news, new products and more.
Also in this issue are a number of new product announcements and industry news which include:
– DYNAMIC ESCAPES: 2023 Tanzania Astronomy Trip
– APM TELESCOPES: New 40 x 110 MS ED Binoculars
– ASKAR: Askar 130PHQ Telescope
– UNISTELLAR: Nocturne App Update
– SHARPSTAR: New Z4 Sextuplet APO Astrograph
– SVBONY: New SV550 OTA and SV405CC Cooled Color Camera
– WA-CHUR-ED OBSERVATORY: Power*Star Power Hub, Ab Light Flat Calibration Panel and Adim PWM Controller
– DEEP SPACE PRODUCTS: Mission Control MC85 Observatory Computers
– STARFIELD OPTICS: 2″ Herschel Solar Wedge
– ORION TELESCOPE AND BINOCULARS: Introduces Several New Products
– HYPERION ASTRONOMY: Prism v11 Astroimaging Software
– SKY-WATCHER:  New Virtuoso GTi Dobsonian
– PLANEWAVE INSTRUMENTS: Now Offering Adaptive Optics
Since 2007 Astronomy Technology Today has been the only global magazine dedicated entirely to telescopes and related equipment. As a subscriber, you can view every back issue online – providing access to over 800 reviews, how-to articles, new product introductions, industry news, ATM articles, astrophotography, and much more.
For our overseas subscribers, you will especially enjoy the access to information you just can't get anywhere else covering the US and global astronomy products market and the many astronomy equipment companies.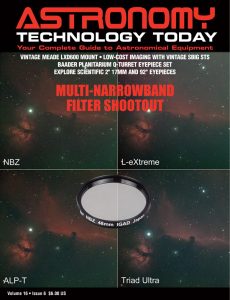 And to make it easier for you to get the next Issue of Astronomy Technology Today and the most extensive news, articles and reviews that are only available in the magazine, we are offering a 1 year magazine subscription for only $6! Or, for an even better deal, we are offering 2 years for only $9. Click here to get these deals which only will be available for a very limited time. You can also check out a free sample issue here.