If you're ready to take the next step up from a small refractor, or if you want your first telescope to have more light-gathering power than the typical starter telescope offers, then the Orion AstroView 6 Equatorial Reflector Telescope is a nice choice.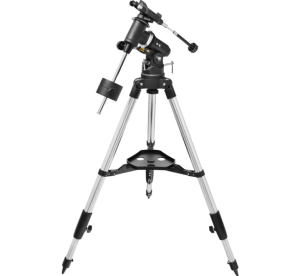 It's hard to beat this 6″ aperture equatorial reflector telescope for all-around performance at a great price. Its 150mm-diameter (6″) parabolic Newtonian reflecting optics (focal length 750mm, f/5) offers views of a  variety of celestial objects.
With the included 10mm Plossl telescope eyepiece (1.25″), you'll roam lunar landscapes at 75x power; or see distinct, variegated cloud bands on Jupiter's disk. Pop in the included 25mm Plossl telescope eyepiece for some deep-sky views, modest 30x power offers images of cloudy nebulas and sparkling star clusters framed in a wide field of view. With additional optional telescope eyepieces or a power-boosting Barlow lens (sold separately), you can push the power higher on clear evenings.
Metal telescope tube rings fasten the reflector optical tube to the sturdy equatorial (EQ) mount. The mount features slow-motion manual control knobs which let you center objects in the viewing field, then track their apparent motion as the Earth's rotation makes them appear to migrate across the sky. The adjustable steel tripod provides ample stability and variable height. The tripod leg braces are hinged at the center for quick setup and fold-up. A roomy accessory tray is also included to hold your idle telescope eyepieces, while also enhancing tripod stability.
The AstroView 6 Equatorial Reflector Telescope offers nice extras as part of its affordable price, including a 2″ Crayford-style focuser with compression locks to hold the eyepieces securely in place without marring the barrels, and a four-vane, adjustable secondary mirror support. The EZ Finder II reflex finder scope helps you locate your targets. The finder offers easy alignment knobs and a quick-release dovetail bracket. Collimation thumbscrews make occasional alignment of the optics an easy, hassle-free procedure. Also included is a "collimation cap" for checking the telescope's mirror alignment.
Those newer to astronomy will appreciate the included DeepMap 600 full-color star map of the night sky with clearly indicated positions of 600 of the finest celestial objects to view. The chart conveniently folds up just like a road map for easy storage and transport. The Orion DeepMap 600 shows the night sky from declination +90-deg to -60-deg. The back of the chart lists essential data for all 600 objects of interest, including a brief visual description of each object — an ideal reference for beginners and advanced observers alike. It is printed on dew-proof plastic for durability in the field, even in damp conditions.
Another nice resource is the Orion MoonMap 260 which provides the opportunity to learn more about the lunar features you see in the telescope. With locations and names of over 260 features on the Moon such as craters, mountains, valleys, "seas" and more, the included Orion MoonMap 260 is a great tool for beginning astronomers. This detailed map will even show you where various spacecraft have landed on the Moon's surface.
Imaging the planets and more is also an option with the included Smartphone camera adapter. It offers a quick and easy self-centering eyepiece clamp provides fast installation providing a stable platform for your smartphone to yield stable, clearly focused snapshots. It is compatible with even the biggest modern smartphones as large as 3-3/4″ wide. The twist-lock eyepiece clamp compatible with telescope, binocular, and microscope eyepieces measuring 25-45mm in diameter.
Specifications for the Orion Astroview 6 Equatorial Reflector Telescope include:
– Optical design: Reflector
– Optical diameter: 150mm
– Focal length: 750mm
– Focal ratio: f/5.0
– Optics type: Parabolic
– Glass material: Soda-lime plate
– Eyepieces: Plossl 25.0mm,10.0mm (1.25″)
– Magnification with included eyepieces: 30x, 75x
– Resolving power: 0.77arc*sec
– Lowest useful magnification: 21x
– Highest useful magnification: 300x
– Highest theoretical magnification: 300x
– Limiting stellar magnitude: 13.6
– Optical quality: Diffraction limited
– Finder scope: EZ Finder II
– Focuser: 2″ Crayford
– Secondary mirror obstruction: 52mm
– Secondary mirror obstruction by diameter: 34%
– Secondary mirror obstruction by area12%
– Mirror coatings/over-coatings: Aluminum & Silicon Dioxide
– Mount type: Equatorial
– Dovetail bar system: Yes
– Motor drive compatibility: Clock drive sold separately
– Bearing material: Friction bearings
– Setting circles: Yes
– Tube material: Steel
– Tripod material: Steel
– Counterweight bar length: 10 in.
– Diameter of counterweight shaft: 12mm
– Weight, optical tube: 10.0 lbs.
– Weight, mount/tripod: 23.0 lbs.
– Weight, fully assembled: 33.0 lbs.
– Additional included accessories: Smartphone camera adapter, collimation cap, DeepMap 600, MoonMap 260
– Other features: Vixen-style dovetail attachment bar, 2″ Crayford focuser, Tubular steel legs for extra rigidity
You can learn more about the Orion Astroview 6 Equatorial Reflector Telescope here.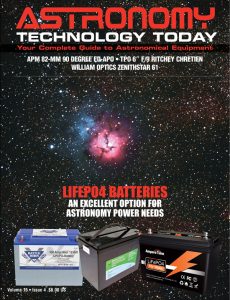 And to make it easier for you to get the most extensive news, articles and reviews that are only available in the magazine pages of Astronomy Technology Today, we are offering a 1-year magazine subscription for only $6! Or, for an even better deal, we are offering 2 years for only $9. Click here to get these deals which only will be available for a very limited time. You can also check out a free sample issue here.